Charles Paul Eidelbach, Sr.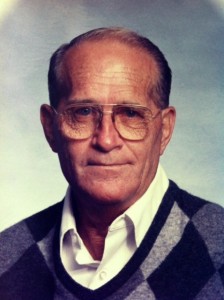 Charles Paul Eidelbach, Sr., 88, passed away in Willis, Texas on Wednesday, November 11, 2015.
Paul was born July 28, 1927 in Matagorda, Texas to Charles Pelton Eidelbach and Lois Gwendolyn Dunbar Eidelbach. His parents moved him and his older sister, Dee Laura, to Galveston, Texas where he resided until 1953. Paul attended Ball High School and served in the U. S. Army as well as the U. S. Naval Reserve. He married Mary Lou Roehl Gilreath in 1948 and raised 4 children in La Marque, Texas.
Paul worked for Union Carbide as a pipefitter for 31 years, retiring in August 1982. He served as a volunteer fireman at the La Marque Fire Department and was also an active member of the VFW and the American Legion, spending many hours at the latter two facilities shooting a mean game of pool or shuffleboard.
In his retirement years, he participated in local community theater and had parts in several plays. He enjoyed camping and in 1961 started an annual, family tradition of going to Garner State Park. Paul experienced many unforgettable moments traveling with his dear friends, Red Enmon, Jim Daniels, and Don Higgs. He and his brother-in-law, Truett Williams, bravely took a 3 night whitewater rafting trip through the Grand Canyon. He also spent 2 months traveling alone through Europe.
Paul was a dear friend to many. He was known for baking birthday cakes, helping friends and grandkids move, fixing his famous spaghetti for the guys, and was always there if you needed him. When thanked, he would respond with a witty "I would have done it for anybody".
Paul loved deeply. His favorite saying was: "I love you more than you love me".
He is survived by: Brother- in- Law Truett Williams (Salado), Four children: Richard Gilreath, Jr. of League City, Mary McDonald (Mike) of Willis, Paula Gabriles of La Marque, and Charles Eidelbach, Jr. of Santa Fe. Paul had 8 grandchildren: Laura Steele of The Woodlands, Louis Gabriles, III, (Mindy) of Brighton, Colorado, Paula Neely of The Woodlands, Angela Westhoff (Kurt) of Dickinson, Gabe Gilreath (Aly) of Austin, Jennifer Eidelbach of League City, Caleb Gilreath of League City, Rachel Eidelbach of Seabrook, 15 great-grandchildren and 1 great-great-granddaughter.
Paul was preceded in death by his parents, Charles and Lois Eidelbach, his sister, Dee Laura Williams and his dear friends, Gene Harrison, Ardie Bullock, Boley Anderson and Red Enmon.
Visitation will be at the Crowder Funeral Home in Dickinson on Saturday, November 14, 2015 at 9:00am with a Celebrating of Life starting at 10:00am. Burial will follow at 2:00pm at the Matagorda Cemetery in Matagorda, Texas.
Pallbearers will be Charles Eidelbach, Jr., Louis (Corky) Gabriles, Jr., Louis (Sparky) Gabriles, III, Hunter Steele, Jim Daniels and Don Higgs. Honorary pallbearer is Truett Williams.
In lieu of flowers, please make a donation to the Shriners Burns Hospital in Galveston, Texas or a charity of your choice.