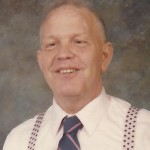 Charles Henry Ploss, of Romney West Virginia, passed away on Saturday, February 8, 2014 in Missouri City, Texas at the age of 79. He was born on February 26, 1934 in War West Virginia to Ansel and Adeline (Rose) Ploss.
Charles attended the West Virginia School for the Blind from 1942 until his graduation in 1953. He went on to graduate from Bluefield State College, Bluefield, West Virginia with a Bachelor degree in Social Studies. He earned his Masters degree in Special Education Vision from Peabody College for Teachers in Nashville, Tennessee and did graduate work at WVU and other universities. Charles taught at the West Virginia School for the Deaf and Blind in Romney, West Virginia for 24 years. He then served as Director of Student Living for the School for the Blind for 8 ½ years and did volunteer work as well. After retiring he did substitute teaching for the West Virginia School for the Blind and Hampshire County schools. Charles was a active member of the Romney Lions Club, The Gideons, The Hampshire County Retired School Employees and a member of the Church of God. Everyone loved seeing Charles ride his horse JJ around town. He always had a joke for them.
He is survived by his brother Jack Ploss and wife Margaret of League City (TX), sisters Hazel Hicks of Missouri City (TX), Margaret Leonhardt and husband Leroy of Texas City (TX), Texas, Doris Morehead and husband Ronald of Lake Suzy (FL), and many loving nieces, nephews, family and friends.
The Family will receive friends on Tuesday, February 11, 2014 from 5-7:00pm with a Celebration of Life Ceremony at 7 o'clock at Crowder Funeral Home, 1645 East Main Street, League City, Texas 77573. Interment will be held at Indian Mound Cemetery in Romney West Virginia under the direction of Shaffer Funeral Home (304) 822-3511.
In lieu of flowers, you may send memorials to League City Lions Club, PO Box 982, League City, TX 77574-0982.