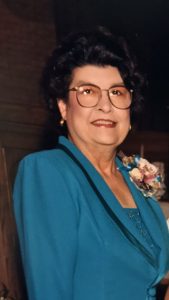 Cecile Mae Barnes Walker, affectionately known as "Cil", 81, of Seabrook, TX., passed away suddenly on November 21, 2016. She will be greatly missed by all that had the privilege of knowing her.  She was so loved and adored by many.  She was an incredible seamstress and baker and was known by many for her amazing cakes.
Born to Cecil McCown Barnes and Effie May Johnson Barnes on November 4, 1935 in Hubbard Texas. After marrying the love of her life, Larkin Walker in August of 1952, they lived in McGregor, Texas for 13 years. They relocated to Seabrook, Texas in 1969 to both take positions at the Johnson Space Center.  Cil was preceded in death by her beloved husband of 43 years, Larkin Carson Walker in 1995.  Nephew, Joseph Ward Bounds of Belton Texas, and son-in-law, Fred Ham of Seabrook Texas.
She is survived by her sister, Thisbie Ann Barnes Stout of LaPorte. Children, Vicki Walker and fiancé Trip Montague of Kemah, Julie Ham and Richard Walker of Seabrook, Jeff and Kristy Walker of Dickinson.  Grandchildren Casey Ham and wife Katherine of Houston, and Larkin and Landon Walker of Dickinson.  Great Grandchildren Shea, Jacinda, Eden, Quillan, and Gwyndolyn.  Nephews,  John Allen, Billy and Bobby Bounds, and Chuck Cowan.  Niece, Connie Cowan.  Pallbearers are Larkin Walker, Landon Walker, Bill Bounds, David Lewis, Todd Thomas and Mike Shapiro.  Honorary pallbearers are Quillan Ham and John Allen Bounds.
Services will be held on Saturday, November 26, 2016, at Crowder funeral home located at 1645 E. Main Street League City, Texas 77573.  Visitation will be held from 1-2pm.  Service will begin at 2pm.  Graveside service immediately following at Seabrook Cemetary on Pine Gully Drive.  In lieu of flowers, donations may be made in Cecile's name to Bayou Animal Services located at 3120 Deats RD. Dickinson, TX. 77539.  Phone 281-337-3117.  www.bayouanimalservices.org