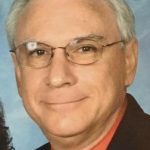 Cecil Boyd Bonham Jr., of League City, Texas passed away Wednesday, April 5, 2017 at the age of 65. He was born July 13, 1951 in Charleston, West Virginia to Cecil B. Sr. and Marjorie Bonham. Cecil lived a full and happy life with his wife Marsha of over 44 years. He was an active member of the League City Church of Christ, where he was known and loved by so many. He retired from Union Carbide and then brought his expertise over to Waste Management. Cecil touched the lives of everyone who crossed his path and will be missed by many.
Cecil is preceded in death by his father Cecil B. Bonham Sr. and brother Robert Bonham. He is survived by his wife Marsha, mother Marjorie Bonham, brother Larry Bonham and wife Robin, sisters Debbie Bonham, Donna Nesselrotte and husband Sean, brother-in-law Bob Thompson and wife Delores, brother-in-law Gene Thompson. Nieces and nephews  Cindy Anderson,  Missy Clapp and husband Rob, Jennifer Bonham, Tonya Engel, Adam Hudson, and Chad Nesselrotte. Great nieces and great nephews Elizabeth Anderson, Lexi Anderson, Bobby Anderson Christopher Clapp and Eric Clapp.
A Memorial service will be held Monday, April 10, 2017 at 3:00 pm at League City Church of Christ  in League City, Texas. In lieu of flowers, you may send memorials to American Diabetes Association, 1701 North Beauregard Street, Alexandria, Virginia 22311, American Heart Association, P.O. Box 841125, Dallas, Texas 75284-1125 and League City Church of Christ, 1801 E Main St in League City, Texas 77573.