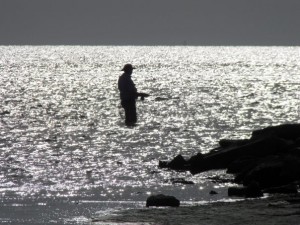 Carroll Vernon Lawson was a man of strong Christian faith who loved God.  He passed away on January 7, 2015 in Houston, Texas.  He was born in Charleston, South Carolina on November 13, 1954 to Donald Ray Lawson, Sr. and Anita Walker Lawson. He married Candace Kypke Lawson on May 14, 1988 at Trinity Lutheran Church in Stonewall, Texas.  The Lord blessed their marriage with five children: Candace Catherine Lawson, Travis Lawson, Donald James Lawson, Bryan Vernon Lawson and John Preston Lawson.
He is survived by his wife and children and his beloved granddaughter, Lily Catherine Hobbs.  Survived also by his mother, his siblings Donald Ray Lawson, Jr. (wife Sue), Madeline Lawson Pruitt (husband Van), Brent Alan Lawson (wife Sandra).  He is survived as well by his uncle, Carroll Myron Lawson (wife Joye), and aunt, Nella Dean Walker Johnston (husband Joe), and numerous nieces, nephews and cousins. Also survived by his pal, King, the "bird" dog.
Mr. Lawson was a veteran who served his country honorably in the United States Navy and a plank-owner of the USS Carl Vinson, CVN-70.  A graduate of the University of Houston Law Center, Mr. Lawson practiced at Matthews, Lawson, McCutcheon & Joseph, PLLC; offices in Houston, Beach City, Permian Basin, Texas and Lafayette, Louisiana.  He was a man respected for his intellect, his work ethic, and his moral character which consistently guided both his personal and professional lives.
Mr. Lawson possessed and often exhibited a dry, razor-sharp wit, enjoyed by family and colleagues alike. He enjoyed the great outdoors throughout his childhood and until the time of his death.  Favorite activities included fishing, bird-hunting, camping, boating and exploring and enjoying the fresh air and wide open spaces with his wife and his children.  He was a husband and life-companion beyond compare and a father and grandfather who will be honored and adored forever.
Thank you, Vernon, for the "excellent adventure" and all the laughs over all the years.
The family thanks the staff at M.D. Anderson for rendering excellent treatment, for its professionalism and its genuinely caring attitude and manner, including, but not limited to, Dr. Bonnie Glisson and Dr. Nisha Rathi.
Words cannot express the grief felt by Mr. Lawson's wife and children for the loss of this deeply-loved man, but they are sustained by faith and joy in the Lord. Mr. Lawson requested the following verses from the Bible be read at his memorial service: 2 Corinthians 12:9-10; Hebrews 11:6; Jeremiah 29:11.
Thank you, God, for the life of this very special man.
A memorial service will be held at 2pm, Monday, January 12, 2015 at the Nassau Bay Baptist Church, 18131 Nassau Bay Drive, Nassau Bay, TX 77058.