Carroll H. "Smitty" Smith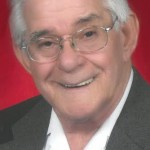 Carroll H. Smith (Smitty), age 80, passed away peacefully April 11, 2014 in Alvin, Texas. Smitty was born May 8, 1933 to Lawrence N. and Margaret Leola (Jack) Smith in Archie, Missouri. Smitty spent his teen years in Galveston and then moved to and graduated school in Meade, Kanas. He returned to Galveston and then entered the United States Army in 1952. He served in Korea and was honorably discharged as a Staff Sergeant in 1955. He returned to the Texas Gulf Coast and spent the next 31 years as a pipefitter for Monsanto Chemical from which he retired. He was a proud member of VFW Post 8248 in La Marque, El Mina Shrine Temple, the Texas City Masonic Lodge 1118 AF&AM, where he received his fifty-year pin, American Legion Post 89 in Texas City and Pipefitters Union Local 211 for which he had served as steward and also as a member of the Examining Board. Carroll resided most of his life in Texas City. He enjoyed hunting, family and friend get-togethers and cook-outs and visiting with his buddies. He was a great husband, dad, grandfather and friend. He was a man with personality, wit, compassion and character that will be remembered by many.
Smitty is preceded in death by his parents, his dearly loved wife of 31 years, Connie Jo (Reed) Smith, daughter Susan Patricia "Suzi" Smith, older brothers Jack Dwight (Norma) Brown and Larry Leroy (Helen) Smith, lifelong friend Malcom (Lois) Jennings, and special cousin Roberta (Shorty) Kildow. Smitty is survived by his three sons Shane and Diana of Santa Fe, Clay and Barbie of Corpus Christi, Cole and Christina Smith of League City; grandchildren Jessica, Steven, Deven, Erin, Nathanael, Parker and Morgan Smith; brother-in-law Pat (Nancy) Reed of League City; special friend Larry (Sharon) Richardson of Texas City; special cousin Jack (Paula) Jack of Edmund, Oklahoma; nieces Debbie and Evelyn Brown of Tacoma, Washington, Peggy (Steve) Ranew of Deer Park, Mary (Dennis) Matthews of Sweeny; nephew Jackie Heirs of Sweeny; former wife and friend Martha Hightower (Philip) Randolph; special friends Travis L. Williams of Texas City and Cindy Hardage of Lancaster.
The family wishes to thank Norma, Jessica, Rosa, Alicia, Diana, Brenda, Cathy, Melinda, Carolyn and all of the great staff at Evening Star PCH for their devotion and friendship with Smitty. The staff says that he will be remembered there always.
Also, special thanks to the Resolutions Hospice team of Lisa O'Brian, Mary, Lynn and Harriet for their compassionate care and to friends and caregivers Becky Bryan Stults, Vickie Jones and Christine Novak.
Visitation will be from 2:00 p.m. to 3:00 p.m., Wednesday, April 16, 2014, at James Crowder Funeral Home, La Marque. Services will follow at 3:00 p.m. with Chaplin Pat Savage officiating. A celebration of life will follow at VFW Post 8248, 901 Main St. in La Marque. A private ceremony for interment at Forest Park East in League City will be scheduled at a later date.