Carol Anne Givens Hamilton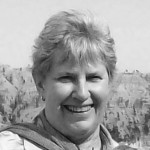 A memorial service to remember and celebrate Carol's life will be held on Saturday, August 9th at 11:00am in the sanctuary of Clear Lake United Methodist Church at 16335 El Camino Real, Houston 77062.   Contributions in Carol's memory would be gratefully received by Clear Lake United Methodist Church or a charity of the donor's choice.
Carol Anne Givens Hamilton passed away at her home on Saturday, August 2nd surrounded by her loving family.  She is remembered by her friends and family as humorist, gardener, chef, traveling companion, merry maker, and mentor.
Carol truly cared about people.  She was a mentor and guide to countless others whose lives she quietly touched and transformed, especially during the last twenty years of her life.  From personal experience, she understood that everyone faces emotional pain.  Carol had a unique ability to be both compassionate and practical in helping others overcome challenging circumstances and then move ahead strengthened.
Carol was an active member of Clear Lake Methodist Church in Houston for more than 20 years. She loved being a part of the church and loved the people she knew there.  She took her faith seriously and participated in the Navigators Sunday school class and in a regular Bible study group.
Carol was born in Shreveport, La. on November 8, 1942 to parents John Wayne Givens and Mabel Sirman Givens.  She graduated from Byrd High School in Shreveport and Northwestern State University in Natchitoches, La. In 1968, Carol married David Hamilton and they began their lives together in Shreveport where their two sons, Barrow and John, were born.  David's work took them to San Antonio which remained home until the boys were grown.  In 1984, her husband David passed away.  Carol moved to Webster, Texas to be closer to her sister and worked at Gary Greene Realtors until her retirement.  During the last few years, Carol and friends had the opportunity to travel.  Whether they were in California or Colorado, New York, the Grand Canyon or New Orleans, the trips were brightened by Carol's clever and creatively unpredictable sense of humor.  Her gentle barbs, often accompanied a small sly smile, always left her friends laughing. To celebrate her 70th birthday in November 2012, Carol participated in — and completed — the Rock 'n' Roll Half-Marathon in San Antonio.  Convincing Carol to talk about her pride in this achievement was not a difficult task.
Carol is survived by her sons David Barrow Hamilton and wife Dana Hamilton and John Blackshear Hamilton and wife Ally Quiroga, her Grandchildren Miley Hamilton and David Hamilton, her sister Marilyn Eiland and brother Tim Givens and wife Lynne Givens, and her nephew Carey Givens.