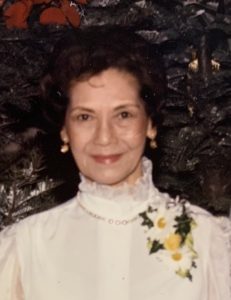 In the silent depth of night, Carmen Codina Eced passed away on March 17, 2021 in Houston, Texas at the age of 93. Carmen was born on July 22, 1927 in Cebu City, Philippines to parents Juan Codina and Gregoria Reyes.
A curious explorer at heart with a deep love of travel, she was among one of the first flight attendants for Philiipine Airlines, later working as a manager for Isla Tours before immigrating to America with her husband, Fabian Eced, and son, Raimundo Eced in 1981. A woman of sophistication, one could frequently find her reading, sewing, gardening or tinkering to the sounds of classical music wafting through her home. In her older years, she would gaze out the window of her car in admiration of the tall oaks that sped by and expressed her desire to climb those trees to the very top, to see the world from above as she once did in her youth. Resting in heaven, she can now enjoy a view of the world at the highest vantage point, as she watches over us.
Carmen is preceded in death by sisters Rosario and Josefina, and brothers Luis, Juanito Jr., and Pedro. She is survived by her sisters Maria and Monseratt, brothers Alfonso, Epifanio, Bernardo, Rafael, Pablo and Ernesto, her only son Raimundo, daughter-in-law Lydia and her only grandchild Mercedes. We have been so lucky to have known you. What an  incredible chance, that we were born in a time and place where we can find each other. Her love will live on through those who knew her.
A viewing for Carmen will be held at the Crowder Funeral Home in League City (1645 E Main St, League City, TX 77573) on Sunday, March 21, at 5:00pm followed by rosary prayers at 6:00pm. Her funeral mass will be held the following day March 22  at St. Mary of The Expectation in League City (1612 E Walker St, League City, TX 77573) at 11:30am. Her burial will proceed after the mass to Calvary Catholic Cemetery in Galveston (2506 65th St, Galveston, TX 77551).
Below is the livestream link to today's service.
In lieu of flowers, those wishing to make a memorial donation in Carmen's memory may do so to the Salesian Missions.