Carlos Ernesto Saravia Orlandini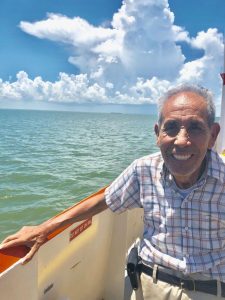 Carlos Ernesto Saravia Orlandini, 80, a resident of League City, Texas, was born in La Paz, Bolivia on October 25, 1942. He passed away January 16, 2023 surrounded by his loved ones.
Carlos Ernesto Saravia Orlandini graduated from El Colegio Don Bosco before attending Colegio Militar del Ejército "Cnl. Gualberto Villarroel". Afterwards, he worked in the Bolivian Department of Labor where he was involved with the Movimiento Nacionalista Revolucionario (MNR), the Conservative party that influenced much of the country's history since 1941. MNR attracted some of the brightest members of the Bolivian Intelligentsia. Carlos worked hand in hand with former President Paz Estenssoro and MNR to establish the universal vote, nationalize the tin mines, and institute an extensive agrarian reform in Bolivia. Due to their involvement with MNR, Carlos and President Paz Estenssoro were tortured and exiled to Lima, Peru.
Upon his return to La Paz, Bolivia, he was appointed as the Secretary of Treasury, General Director of Tax Collections, and had plans to become a Congressmen. During this time, Bolivia was under a dictatorship regime that planned to overthrow the government. Despite his love for his country, Carlos loved his family even more. Thus, he sacrificed his political career and moved to Houston, Texas in order to provide his children with freedoms and liberties that he knew were not guaranteed for them in Bolivia.
He leaves behind his wife of 40 years, Gloria Saravia; daughters: Yvonne Saravia Stamey, husband Scott, Carla Saravia De Los Santos, husband Oscar and Grace Gloria Tims, husband Gregory; son, Ernesto Carlos Saravia; grandchildren: Connor Kyle Stamey, Matteo Avi De Los Santos, Reign Amada De Los Santos, and Gianna Rose Tims; sisters: Sonia Walsh, and Nancy Blumenthal; brother, Enrique Saravia, wife Gina.
He was preceded in death by his parents, Ernesto and Matilde Saravia.
A memorial service will be held on Saturday, January 28, 2023 at 2:00 PM, in the chapel of Crowder Funeral Home in Pearland.