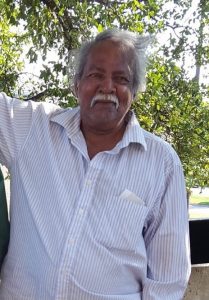 C.V. Krishnappa, 64 years old, of Spring, Texas passed away on Friday, July 23rd, at home. He was born in April of 1957, in Chickkamalur, Karnataka, the son of Vishakantiah and Chickkathayamma.
He grew up with his seven brothers and three sisters. He was a distinguished athlete with notable accomplishments in various sports such as badminton, track/field and martial arts.
He graduated with a specialization in Aerospace Engineering from the National Institute of Engineering in Mysore, Karnataka in the early eighties. He was known to be an excellent teacher and taught at the College of Engineering in Tumakuru.
He moved to Chicago, IL in the mid-eighties with his wife, Rajalakshmi, and started working for a small electronics company. Together, they had three children, Divya, Rashmi and Deepak. In 2000, he and his family relocated to Spring, Texas where he worked for an oil company as a senior design engineer.
An avid gardener, he enjoyed spending time with his family expanding their garden and landscaping. He loved coaching his children in various sports, watching them compete and attended every game. He was known to film his children's games and provide constructive criticism to help them improve. He also enjoyed consistently challenging and defeating his children while playing carrom, badminton, table tennis, and volleyball. His favorite teammate was his first dog, Ranger, who shared his enthusiasm for teaching his children the benefits of hard-earned victories. He was not only a great athlete and invested father, but also a great teacher, especially when overseeing the math and science education of his children. He wanted his children to have a better life than he did, and he gave them every opportunity to be successful.
Over the years, he battled some serious medical issues, but he lived his life exactly the way he wanted and never let those issues hinder him. He was very loved when he passed from the world, and he will continue to be loved and remembered daily.