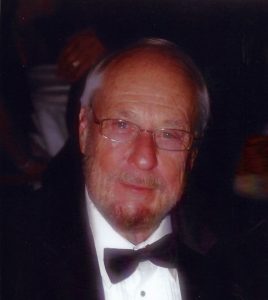 C. Harold Lambert Jr. (Hal), 1935-2021 of League City, Texas passed on February 19, 2021. Hal was born and raised in Atlanta, Georgia; the son of Cheever Harold Lambert and Marie Hale Lambert. Hal is preceded in death by his parents, sister Wini Carter, son Timothy Lambert, and grandson Josiah Lambert.
Hal is survived by his wife of 63 years, Diane Harpold Lambert, sons Michael Lambert and wife Roxanne of Columbia, MO., and Richard Lambert and wife Tracy of Fayetteville, AR.  Grandchildren Jessica Lambert of Lubbock, Jacob Lambert of Dallas, and step-granddaughter Heather Wedel of Chicago.
Hal graduated in 1957 with a BS degree in Physics and Mathematics from the University of North Georgia.  He received a commission in the U.S. Army as 2nd Lieutenant upon graduation.
Hal was very proud of his 50-year space operations career with NASA.  Starting with anti-aircraft missile systems at Fort Bliss through the Apollo, Space Shuttle and Space Station Freedom programs at Langley Research Center and Johnson Space Flight Center.    Hal was instrumental in heat shield development, Lunar Module and Lunar Rover subsystems, and Shuttle Payload Integration.
After retiring Hal and Diane traveled nationally and internationally.  Hal enjoyed the Strawberry Squares Dancing Club of Pasadena, cards, dominoes, gardening and fishing.  They both volunteered locally with the Galveston Grand Opera House and the Bay Area Meals on Wheels.
Those wishing to make a donation in Hal's name may do so to the following organizations:
https://www.bayareamealsonwheels.com/
https://www.bayareapetadoptions.org/
The family will hold a private burial at Mt. Olivet Cemetery in Dickinson, Texas.