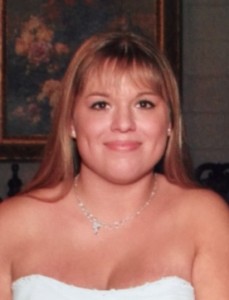 Brooke Nicole Tuscana, 34, resident of Dickinson, Texas, passed from this life, Friday, September 2, 2016. She was born on March 5, 1982 to proud parents, Richard Susen and Janie Prokisch in Freeport, Texas. Brooke was a beloved wife and mother, devoted to her family and home.  Brooke graduated from Brazoswood High School in 2000.  She received her medical assistant certification from Texas School of Business in 2003. She attended Clear Creek Community Church.
Brooke leaves to cherish her memory, her loving husband of 10 years, Troy Tuscana; her mother, Janie Prokisch and husband Dean, her father, Richard Susen; grandparents Sara and Paul Sarabia, Bonnie Susen, Odilia and Robert Dominguez; one daughter, Jessa Layne Tuscana (age 4), one son, Joseph Alan Tuscana (age 9), a sister Stephanie Northcutt and husband Brad, nieces, Caitlynn Bynum and Ashton Northcutt, and nephews, Braden Northcutt and Landon Northcutt. She is also survived by many aunts, uncles, and cousins who loved her dearly.
In her honor a funeral service will be held on Friday, September 9, 2016 at 2:00 pm in the Crowder Funeral Home Chapel in Dickinson, Texas. Officiating will be Pastor Lance Lawson.