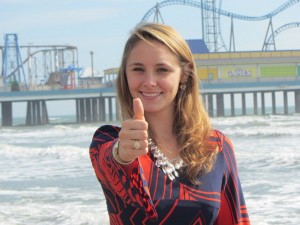 Brooke Heather Chapman of Houston, Texas, passed away May 29, 2016 in Kingwood, Texas.  Brooke was born September 20, 1992 in Webster, Texas.  She was 23.
Brooke is the daughter of David and Kay Lynn Chapman and sister to Rylan Chapman.  Her grandparents are Jerry and Wilma Jo Young, Florence Chapman, and the late David Charles Chapman.
Brooke graduated from Clear Lake High School in 2011, and from Texas A&M Galveston in 2014 with a Bachelor's in Maritime Administration.  Brooke was working for Kirby Offshore Marine in Houston.  Kirby will be naming a tugboat in honor of Brooke, the "Miss Brooke Chapman".  Brooke was a beautiful, happy girl who loved her family and friends deeply.
Visitation will be held Sunday, June 5, 2016 from 4:00pm to 6:00pm at Crowder Funeral  Home, 111 East Medical Center Blvd, Webster, TX  77598.  Funeral services will be held Monday, June 6, 2016 at University Baptist Church, 16106 Middlebrook Dr., Houston, TX  77059.