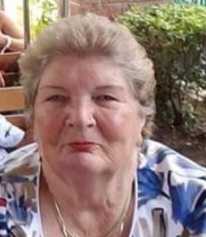 Brenda Sue Watson, 82, a resident of Manvel, TX, passed away November 27, 2022 in Houston, TX. She was born on June 28, 1940 in Foley, AL.
Brenda is reunited with her husband of 56 years, Eugene Robert Watson; parents, W.C. and Delores Giles; and brother, Jerry Giles.
She leaves behind her daughters: Nia Beatty, and Terrie Masera; son, Eugene R. Watson, Jr; grandchildren: Heather Ann Masera, Forrest Christopher Masera, wife Shelby, and Randi Nicole Furbee, husband Matthew; great grandchildren: Sophia Abelina Masera, Mackenzie Brooke Masera, Annabelle Margaret Furbee, and Caroline Madison Furbee.
Brenda had a passion for her pets.  She used to tell stories about her childhood cat, Tom the tomcat.  She would nurse him back to health after his fights. As an adult, pets were always part of the family.  There was Mimi and Buster, Peaches, Nicki and Honey, Rush the rescue greyhound,  Katy and Callie and their kittens born under the porch of the Manvel house, Smokey and Bandit (two of the kittens), Sassy and Maggie. Sassy, Maggie and Callie were comforting to her in her later years.
Brenda was also involved in the deaf community to support her son, Gene.  She was a member of HAPHI (Houston Area Parents of the Hearing Impaired).  When Gene went to Texas School for the Deaf in Austin, she became a member of the TSD Boosters.
In lieu of flowers, please make memorial donations to Harris County Pets, 612 Canino Rd, Houston, TX 77076.