Brenda Gayle Stansell Martinec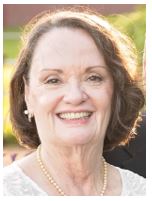 Brenda Gayle Stansell Martinec, 78, Houston, Texas, friend and leader for many, passed on October 17, 2022. Brenda and John Lee Martinec were married June 15, 2017.
Brenda is preceded in death by her parents, Weldon Lacy Stansell and Frances Addreanne Parrin and her brother George Stansell. She is survived by her sister, Martha Stansell Holley of Allen, TX; brother-in-law Ron Holley, sister-in-law Nona Stansell, Colorado Springs, CO; son Greg Konikowski Austin, TX; and daughter Andrea Konikowski, Allen, TX.
Grand children are Mady Maxwell Salinas and husband Rumaldo of Ponder, TX; Alexis Pogue, and James Pogue of Allen; and Maddison Konikowski of Austin. Brenda was proud the be Great Grandmother, with Great Grandchildren Noah, Dixie, Richard and Josephine.
Brenda was very smart and versatile in academic excellence in all phases of her life, demonstrated by only a fraction away from being Salutatorian in her '61 Gladewater TX high school graduation. Brenda was a well liked leader and active in her Gladewater school class, leading in many ways throughout her 12 years – class Favorites, Head Cheerleader, Football Sweetheart, Reunion committees and much more. Brenda loved it and loved her friendship with all classmates.
Brenda Stansell made her rounds in Gladewater, the quaint but overwhelming Oil Well capitol of Northeast Texas.
Brenda sang beautifully and was highly respected in Texas State Choral, starting in her Senior year in high school.
Brenda went on to take the city of Austin by Storm at the University of Texas. Brenda is a proud lifelong Longhorn.
After UT'65 graduation Brenda's proudest career moments were as Computer Analyst throughout her contribution to the burgeoning computer industry across American.
Brenda's most satisfactory computer analyst role was with the IBM Federal Systems Company's lead role in NASA's American and international human space accomplishments at Houston's "Space City" at Johnson Space Center (JSC). Brenda's highlighted contributions included America's human landings and research on the moon, many of the U.S. Space Shuttle manned missions featuring the high payback research by onboard payloads, and various earth orbit satellites deployed by international crews of Astronauts.
Brenda and best friend, Kaye Arnold, throughout their childhood and 12 years of school as the two of the smartest in their class, carried on their mischievous but occasional productive ventures in their neighborhood. Later in retired life, they and many close classmate friends still stayed close together via today's social outlets of mobile phone, email and text messaging.
Brenda was an expert in crossword puzzles or any puzzle types she could find. She enjoyed reading. Watching the Astros was her most loyal sports enjoyment, with antique western movies and football on TV close behind.
An informal Celebration of Life and viewing for Brenda takes place Tuesday, October 25, 6pm at the Crowder Funeral Home, 111 E. Medical Center Blvd, Webster, TX.
Graveside service is currently targeted for November 25, 2022, Friday, 11am at the Ocker Brethren Church Cemetery, east of Temple, Texas on Texas Highway 53 east of CzechTex farming community of Zabcikville.
Brenda wishes that contributions be targeted for Cancer Research, with Houston, Texas' MD Anderson Cancer Center as a primary research recipient.
May God Bless Brenda Gayle Stansell Martinec.