Bonnie "Patsy" Lindsey Borup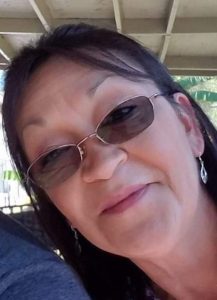 Bonnie "Patsy" Lindsey Borup, 62,  of Texas City, Texas, passed away on Monday, July 24, 2023.  She was born December 6, 1960 in Alice, Texas.
Patsy was preceded in death by her mother Geneva Katherine Thigpin and brothers Joe and Bobby.
She is survived by her daughter Stacey Sharee Ryall (Jeff), Ashley Gail Gaskins son Johnny Lynn Guice II, sister Cathy Lindsey-Cox (Bart)  and grandchildren Logan Ryall, Ashlyn Ryall, Kierstin Guice and Aubrey Guice.
Patsy, as her friends knew her by, was a kind and caring woman.  Her pride and joy were her children and grandchildren.  She was always a hard worker and wanted to be sure that everyone around her was happy and enjoying life.  She loved to attend her grandchildren's sports events and was devoted to her family.  Patsy was a great cook, loved to fish and enjoyed the simple things in life.  She raised children, loved music and being in the sunshine.  She is at peace now after years of pain and can now be with her Mom, Geneva, who she missed every day.
The Family will receive on Tuesday, August 1, 2023 from 4-6:00pm with a Celebration of Life Ceremony at 6 o'clock at Crowder Funeral Home, 1645 East Main, League City, Texas 77573