Bobbie Jean "Skinny" George Crawford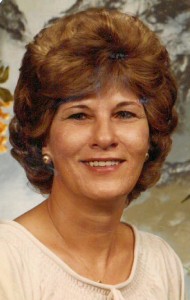 Bobbie Jean "Skinny" George Crawford went to be with the Lord on May 17, 2015. She was born in Maydelle, Texas 83 years ago to Nola and Everett George.
She is survived by her son Bobby Ray "Booger" Cannon and wife Barbara; her sister Louise Harrison, and brothers Marshall Ray and wife Joyce, Rodney and wife Diane and her aunt Marguerite, seven grandchildren and sixteen great grandchildren and numerous nieces and nephews.
She is preceded in death by her parents Nola and Everett George, brothers Dewey and Morris, sisters Doris, Mary and Bernice, ex-husband Bonnie Ray Cannon, husband Cecil Crawford and daughter Bonnie Jean "Sissy" Hart.
Bobbie loved the Lord, her family, animal print, seafood, Gospel music, QVC, crossword puzzles, reading, Guideposts, yardwork, Buddy (her dog) jewelry (both real and costume) and sweets. Not necessarily in that order.
There will be a viewing on Wednesday, May 20, 2015 from 5:00pm -8:00pm at the James Crowder Funeral Home in La Marque. Services will be held at 10:00am on Thursday, May 21, 2015 at the James Crowder Funeral Home. Interment will follow at Galveston Memorial Park Cemetery in Hitchcock, Texas.
God Saw You Getting Tired
God saw you getting tired and a cure was not to be so he put his arms around you and whispered 'Come with me'. With tearful eyes we watched you, slowly fade away. Although we loved you dearly, we would not make you stay. A golden heart stopped beating, hardworking hands at rest. God broke our hearts to prove to us, He only takes the best.