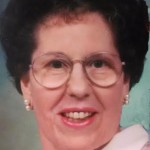 Billye Jeanne Zeringue, 83 years young, was born March 9, 1931 in Galveston, TX, and passed away April 28, 2014. She married Francis J. Zeringue, Sr. on January 25, 1947. She was a homemaker, member of Our Lady of Lourdes Catholic Church and a resident of Santa Fe for the last 40 years. Billye was an artist at heart, enjoyed sewing and cooking for her very large family.
She is preceded in death by parents George and Lillian Bujan, brother, Gerald Caldera, son Francis J. Zeringue, Jr. and son-in-law Dean Osborne.
She is survived by her husband Francis J. Zeringue, Sr., son Ronnie Zeringue and wife Dana, daughters Kathleen Osborne, Yvonne Painter, and Sherri D'Argenio and husband Doug, and daughter-in-law, Sharon Zeringue.
Billye was blessed with 11 grandchildren: Brian Zeringue, Leslie Mullen, Diron Painter, Melissa Senter, Liane Barton, Brandi Osborne, Chad Zeringue and Devon, Delaney, Roman and Melina D'Argenio and 15 great-grandchildren.
Visitation will be held Wednesday, April 30, 2014 at the Crowder Funeral Home in Dickinson from 5:00pm to 8:00pm, with a rosary at 6:00pm. A funeral service will be held on May 1, 2014 at 2:00pm at the Our Lady of Lourdes Catholic Church in Hitchcock, with Father John Kappe officiating, interment to follow at Mt. Olivet Catholic Cemetery in Dickinson.
Pallbearers include Diron Painter, Josh Mullen, Cameron Mullen, Tyler Barton, Devon D'Argenio, Roman D'Argenio, Doug D'Argenio and Jason Bill with Honorary Pallbearer Kenneth Deslattes. In lieu of flowers, donations can be made to Our Lady of Lourdes Catholic School, 10114 Hwy 6, Hitchcock, TX. 77563, or a charity of your choice.