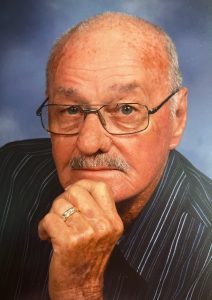 Billy Roy Ballard, of Kemah, Texas, passed away on Friday, June 16, 2023 in Webster, Texas at the age of 83. He was born on October 7, 1939 in Deport, Texas to Roy Ernest and Katherine Ballard.
Billy married the love of his life, Janis in 1962 and has been a dedicated, loving husband for 61 years. His biggest joys in life were loving his wife and family. Billy never missed an extracurricular activity for either of his children and continued that tradition as much as possible with each of his grandchildren. Not only was Billy a dedicated family man, he was also a dedicated employee, working as a lineman for Houston Lighting and Power Company for 30 years where he retired in 1995. Billy loved to fish and for many years owned a shrimp boat as a hobby. He was an exceptional bowler and enjoyed spending time at the bowling alley and playing in various bowling leagues. After retirement, Billy and Janis loved traveling, and took many cruises, among their favorites were Spain, Alaska, Hawaii and the Panama Canal. Billy was a member of the Masonic Lodge and just recently celebrated his fifty-year anniversary as a member. He was a man of faith and loved attending and volunteering at the Methodist Church. Billy was known for his work ethic and prided himself in serving others.
He was preceded in death by his parents, Roy and Katherine Ballard, brothers, Rodney Ballard and Larry Ballard.
He is survived by his wife Janis Ballard, son Norman Ballard and wife Peggy, daughter Stacy Wilkie and husband Kelly. Grandchildren Hannah Ballard, Reagan Wilkie and wife Kyndal, Reid Ballard, Riley Skolaut and husband Reschen and great granddaughter, Finnley Wilkie and his sisters, Charlexa Smith, Margaret Sue Tally and Aunt Mary Ruth Ballard Price.
The Family will receive friends on Wednesday, June 21, 2023 at 10:00am with a Celebration of Life Ceremony at 11:00 am at Crowder Funeral Home, 1645 East Main, League City, Texas 77573. Interment will follow at Galveston Memorial Park Cemetery, 7301 Memorial Drive, Hitchcock, Texas 77563.
Memorials may be made to Bay Harbour United Methodist Church, 3459 FM 518 East, League City, TX 77573.