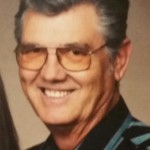 Billy Ross Riley, 76, lifetime resident of Dickinson, Texas passed away November 8, 2014. He was born August 3, 1938 in Dickinson to parents Frank and Jenny Riley. Billy was preceded by his parents and brothers – Frank, John, Lewis and Charles Edward.
He was a longtime member of Shrine of the True Cross Catholic Church, Dickinson, Texas.
He is survived by his loving wife, Connie Riley; daughter, Jeanne Simmons; sons, Billy Riley Jr., David Riley and wife Cindy; grandchildren, Michele Mayes, Rachel Riley, Joseph Riley, Brandon Burkett and wife Elizabeth, Anthony Mayes and wife Tonya, Cody Seyfried and wife Amy, and Levy Lawson; and great-grandchildren, Eric and Evan Savoie, Blake Burkett, Kloie Schultz, Kyron Mayes, Logan Lawson, Seth Yandell, Leland Kastl, Jaxson and Ember Seyfried.
Visitation will be held from 5 p.m.-8:00 p.m. with a Rosary beginning at 7 p.m. on November 13, 2014 at Crowder Funeral Home in Dickinson.
Funeral Mass will be held at 10:30 am, November 14, 2014 at Shrine of the True Cross Catholic Church with interment following at Mt. Olivet Cemetery.