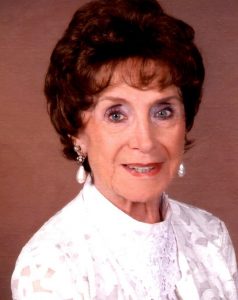 Billie Davis Higgins, 87, resident of Santa Fe, Texas passed away August 8, 2017. She was born September 7, 1929 in Buffalo, Texas to parents Angus "Bill" Davis and Juanita Davis. After graduating from high school in Dayton, Texas, she moved to Houston and worked for an Insurance Co. doing clerical work. Next, she was employed by Union Carbide where she met the love of her life Eddie and they married in Galveston, Texas. She and Eddie had two sons, Stephen and Patrick Higgins. Later she started selling Stanley Home Products from her home. Her next career move was GAF in Texas City in the Personnel Department and then was employed as the first Director of Personnel at the new Clear Lake Hospital in Webster, Texas. After that, she founded Career Finders Employment Agency and Temporary Employment Inc; while at TEI she found time to serve as President of the Chamber of Commerce in Alvin and received Woman of the Year Award. Once she sold TEI, she then founded Shamrock Inc. and also Merchandiser's for Hire. She loved music and played the piano and organ. Then she retired to spend time with her husband. After his passing, she became and enjoyed being a volunteer at Mainland Medical Center in Texas City.
She was preceded in death by her loving husband Edward Higgins of 64 years.
She is survived by her sons, Edward Stephen Higgins and Patrick Kevin Higgins and wife Sheryl; special nieces, Janet Ruth Blake and husband Johnnie and Cheryl Williams and husband Scott; grandson, Jason Westphal and wife Melissa; great-grandchildren, Ayla and Aaron Westphal; and also numerous nieces and nephews.
She was a member of Our Lady of Lourdes Catholic Church in Hitchcock for 64 years. Billie and Eddie were devoted to the Parish and contributed monetarily and with giving their time to help the Parish grow.
Visitation will be held from 6:00 pm – 8:00 p.m. with a Rosary beginning at 7:00 p.m. Friday, August 11, 2017 at Our Lady of Lourdes Catholic Church. Funeral Mass will be held at 10:00 a.m. Saturday, August 12, 2017 at Our Lady of Lourdes
Catholic Church followed by a Committal Service at Mt. Olivet Cemetery in Dickinson, Texas.
Arrangements are under the direction of Crowder Funeral Home in Dickinson, Texas.
In lieu of flowers, those who wish to may make donations in Billie's memory to Our Lady of Lourdes Catholic School, or to the National Kidney Foundation, or the American Heart Association.