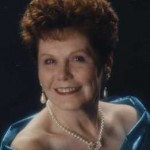 Beulah Ann Feehan Kelly, of Dickinson, passed away on Thursday, April 10, 2014. A proud Galvestonian by birth, Beulah was BOI on June 26, 1931. She grew up in Galveston and began her professional career at the age of 14 working as a soda jerk at Broadway Drug Store. After graduating from Ball High School and business school, Beulah went to work as a typist for Southern Gas Company. She went on to work as a secretary for Amoco, Texas City Refinery, and General Electric. Her final position was Executive Secretary to the Vice President of Exploration and Production at Coastal Oil & Gas Corporation/El Paso Corporation. Before she retired, she had "trained" 5 different VPs.
Although Beulah did not attend Texas A&M University, she was a die hard Aggie fan. She was an Aggie Mom to Lisa, Allyson, and Larry Richard, an Aggie Aunt to Mike, Richard and Dan, an Aggie Great Aunt to Cameron, and an Aggie Grandma to Lily, Sean, and future Aggie Reilly. Beulah and Larry had Aggie football season tickets and attended almost every home game for 47 years. Even after Larry's death, she continued to support her Aggies taking her daughter or son-in-law to the games with her.
Beulah loved her girls, grandchildren, and great granddaughter. They were a source of great pride for her and brought great joy to her life.
Beulah is preceded in death by her husband of 44 years, Lawrence "Larry" Kelly; her parents, Lewis, Sr. and Harriett Feehan; her brother, Lewis Feehan, Jr. and her sister-in-law, Florene Feehan Andrich. She is survived by her daughters, Patrice and husband Jay Sallans, Suanne and husband Billy Sparks, Lisa Owens, Allyson and husband Jim Jackson; grandchildren James Sallans, Lily Sallans, Casey and wife Carol Sparks, Brandon Sparks, Reilly Owens, Sean Jackson, Kayla Jackson, Todd Kelly; great granddaughter, Caden Sparks. She is also survived by her beloved nephews, nieces and cousins. Also, acknowledged are those that, although not actual relatives, loved her like she was family.
A Viewing and Rosary will be held 5-8 PM on Tuesday, April 15, 2014 at Crowder Funeral Home, 851 FM 517 Rd W, Dickinson, TX. The Funeral Mass will begin at 1 PM on Wednesday, April 16, 2014 at Shrine of the True Cross Catholic Church, 300 FM 517 Rd E, Dickinson, TX. A graveside service will follow at Mt. Olivet Catholic Cemetery.