Betty Schattel Spencer Black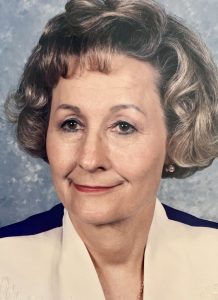 Betty Schattel Spencer Black, (90) passed away on Tuesday, October 25, 2022 in Round Rock, Texas.  She was born on September 3, 1932 in Galveston, Texas to Emil and Anna Schattel, Sr.
Betty was one of the first employees at College of the Mainland and retired from COM after 25 years.  She was a member of First Christian Church in Texas City, a wonderful friend to many and a loving and generous Nana to her family.
Betty is preceded in death by her parents; husband Elwan D. Spencer, Sr., siblings Emil J. Schattel, Jr., (Josephine), James R. Schattel (Peggy) and Geraldine Schattel Kocurek.  She is survived by her husband of 27 years, Frank Willard Black, son Elwan D. (Buster) Spencer, Jr. (Marsha), daughters; Patricia Ann Spencer Villalobos (Daniel), and Linda Carol Spencer Covin (Steven), brother Michael Schattel (Dorothy), her grandchildren; Jennifer Spencer Atkins (Alan), Erika Spencer Derryberry (Jamey), Kris Villalobos (Angela), Candace Villalobos Alpaslan (Hakan), Ashley Villalobos Keeton (Bryan), Britt Covin Ward (Sam) and Heather Covin Wallace (Scott); great-grandchildren; Ashley Atkins, Blake Atkins, Katherine Derryberry, Spencer Derryberry, Trinity Villalobos, Danity Villalobos, Logan Villalobos, Domani Chiari, Paul Sims III, Elysia Keeton, Blakely Keeton, Jameson Keeton, Amelia Keeton, Caleb Ward, Hailey Ward, McKenna Ward, Raegan Ward, Aidan Wallace, Liam Wallace and Declan Wallace.
A visitation will be on Saturday, October 29, 2022 from 11:00am – 12:00Noon at the Crowder Funeral Home, La Marque with the funeral service at 12:00Noon. Interment will follow at Hayes Grace Memorial Park Cemetery in Hitchcock, Texas.
Pallbearers will be Blake Atkins, Spencer Derryberry, Caleb Ward, David Schattel, L.J. Schattel and Michael Schattel, Jr.