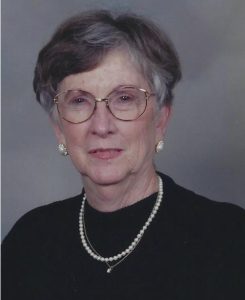 Betty Rogers Glover, age 94, was called to her heavenly Father on April 8, 2022.  She was born September 7, 1927, in Bogalusa, La. to James Rogers and Dollie McElveen Rogers.  She grew up in Bogalusa La. with her sister Delores Rogers Shows.
In 1946, she met a tall slender young man, George Glover, who had just returned from serving in World War II.  In June of 1949, Betty married the love of her life, and they spent nearly 71 years together as husband, wife, best friends, and confidants.
In 1952 they moved to Houston where they raised their two daughters, Pam Nix and Kim Vaughn.
Betty was a faithful Catholic and an active member of St. Paul Apostle Catholic Church in Nassau Bay, Texas.  She was a member of the Samaritan Ministry, and the Seniors Bible Study Group.
Betty was a social butterfly and never met a stranger.  She loved her family and friends and adored spending time with them.  She particularly enjoyed family time on the beach in Galveston, and watching her grandsons play sports.  Her grandsons held a special place in her heart and brought her much joy.  In her younger years, she liked swimming, cooking, and bowling.   Betty was a loving wife, mother, grandmother, and sister, and will be greatly missed by all.
Betty is survived by her two loving daughters, Pam Nix, Kim and husband Tom Vaughn, grandsons Adam Vaughn and wife Krystal Vaughn, Alec Vaughn, and Tyler Vaughn, sister Delores Rogers Shows, and many nieces and nephews.  She is predeceased by her husband George Glover, brother-in-law Donald Shows, sister-in-law Merlyn Glover Robinson and husband Richard Robinson, and son-in-law Randy Nix.
On Tuesday, April 19, 2022, at St. Paul Apostle Catholic Church in Nassau Bay, a visitation will be held at 10:00 AM followed by a funeral mass at 10:30 AM, and a reception will follow at the church in Founders Hall.  Internment followed at Mt. Olivet Catholic Cemetery, I45, Dickinson, Texas, at 1:45 PM.  In lieu of flowers, please donate to the to the St. Paul Apostle Catholic Church Building Fund.