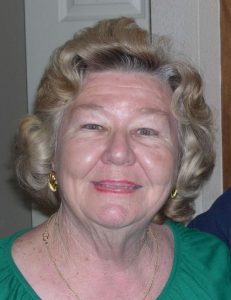 Betty Muzar, 88, passed away peacefully on Saturday afternoon, January 11, 2020 with her family by her side. A life-long resident of Galveston, Betty worked her way through beauty school to become a beautician in the early 50's. She married Philip G. Muzar on May 14, 1954 and remained married for 56 years before his death in 2010. Something unique about Betty and Phil's marriage was they were double related. Phil's uncle John Peter "Buzz" Muzar was married to Betty's aunt Jackie "Weezie" Junemann-Muzar, and they were responsible for introducing them to each other.
Betty was a loving wife, mother, grandmother, and great-grandmother and was born on August 6, 1931 in Galveston TX. Betty spent most of her married life as a homemaker and one of her greatest loves was children. She spent several years working at a daycare and eventually starting her own business babysitting and caring for children in her home. She was a member of St. Mary's Catholic Church in Galveston. Family was extremely important to her and she was known for her ability to recite any birthdate from memory of any of her aunts, uncles, cousins, nieces or nephews as well as their spouses and children. Her Sunday family gatherings where she cooked the best homemade meals held very special memories for her family. One of Betty's favorite pastimes was watching Animal Planet and National Geographic where she loved to learn about all the different world cultures and wild animals. She was an avid card and domino player, and everyone wanted her as their partner.
Betty will be eternally missed by her family and friends for her caregiving and her ability for making everyone feel loved and special. She will always be remembered for her great sense of humor. She was always ready for a quick come-back, a smart comment, or hand gestures even though her speaking voice was slowly being taken by her Parkinson's disease. She was quick to push your buttons and you never had to wonder what she was thinking.
Betty is preceded in death by her husband, Philip G. Muzar Sr., her parents, Edward David Lucas and Mary Ellen Junemann Lucas; her siblings, Joyce Lillian Chumley, Mary Margret Lucas, and David Lucas.
Betty is survived by her daughter, Phyllis Muzar Hamilton and husband Don of Santa Fe, TX, son, Philip Muzar Jr. of The Woodlands, TX; grandchildren: Chrystal Heath of Houston, TX, Lindsay Bryan and husband Ben of Lake Houston, TX, Laura Muzar of Denver, CO; great-grandchildren: Nolan Bryan and Archer Bryan, along with numerous nieces and nephews that she dearly adored.
Visitation will be held on Friday, January 17, 2020 from 5:00 to 8:00 pm at Crowder Funeral Home, 401 Texas Ave. (FM 1765), La Marque, TX, 77568 with the Vigil at 7:00 pm.
Funeral services will be held on Saturday, January 18 2020 at 10:00 am at St. Mary of the Miraculous Medal Catholic Church at 1620 9th Ave N., Texas City, TX, 77590, with Father Clint Ressler officiating. Interment will follow at Galveston Memorial Park.
Pallbearers will be; Greg Jannasch, Mike Jannasch, Danny Jannasch, Ben Bryan, Philip Muzar Jr. and Don Hamilton. Honorary pallbearers will be Dexter Bordeau and Bob Fuldauer.
The family would like to express their deep appreciation and gratitude to Seabreeze Nursing Home, AMED and HALO Hospice in Texas City, TX for their kindness and excellent care of Betty during her lengthy illness.