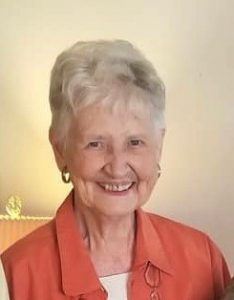 Betty Jean Reagan Gates, 92, of Texas City, Texas passed away on November 20, 2020. She was born in Howard, Texas on September 22, 1928 to Guy and Hallie Reagan. She married L A Gates on June 25, 1947. They were married for 47 years. Betty was a devoted wife, mother, and cherished her grandchildren and great grandchildren. She was a member of the former Calvary Baptist Church and presently at First Baptist Church of Texas City.
Was preceded in death by her parents Samuel Guy Reagan and Hallie Reagan; spouse L A Gates; son John Randall Gates; and granddaughter Jamie Alline Williams Graham.
Betty is survived by her sons; Samuel Gates and wife Phyllis Gates of Kilgore; David Gates of Texas City; Rebecca Bright of Clear Lake; Mark Gates and wife Sue Gates of Dickinson; daughter/granddaughter Jessica Collier and husband Wesley Collier of Texas City; Zeke Gates of League City; Mandy Sanchez and husband Mark Sanchez of Cypress; Victoria Larson and husband Darrin Larson of Forney; Sarah Mardis of Katy; Laura Gates of Kilgore; Stephen Furman of Liberty; and 12 great grandchildren.
Graveside services will be held at 1:00 pm, on November 23, 2020 at Grace Memorial Park in Santa Fe, Texas.