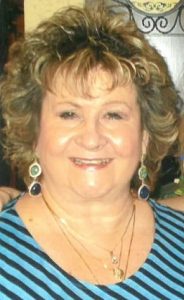 Betty Carter passed away on Wednesday, May 9, 2018 at her home after being diagnosed with ALS 9 months ago.  During her daily struggles with this terrible disease, Betty still kept her beautiful smile and stayed in good spirits.  As long as she could communicate she would comfort others with her famous line, "It Is What It Is".
Betty was born in Palestine, TX on April 19, 1947 to Jake and Gladys Till.
Betty and her (late) husband, J.D. Petty moved to Texas City in 1965.  She became a hairdresser and was a stylist for 16 years.  Then the restaurant business called her name.  She was the owner of Old Galveston Seafood in La Marque and Hitchcock for 17 years.  During that time she made hundreds of good friends and happy customers. Her shrimp and oysters are missed by many. After closing the restaurant, she joined the staff at Mainland Pawn and Jewelry.  She made even more friends from the many people she met there.  She loved her co-workers and the owners like family.
Betty was kind and loving and truly never met a stranger, and always willing to help others.  She was full of fun.  The party didn't start til Betty Boop got there.
She was an avid bowler for over 20 years; she also enjoyed traveling, especially her trips to Europe, Canada, gambling and her annual camping trip; meeting her friends at Gringos was one of her favorite times.  But most importantly, she Loved-Loved her family and spending time with them.
Betty is preceded in death by her parents, her husband and children's father J.D. Petty, husband Don Carter and sister Helen Smith.
She leaves behind her loving daughter and caretaker, Ginny Pryor and husband Robert Kyu of Texas City and her son Kevin Petty and wife Stephanie of League City; four grandchildren: Camron Pryor, Kyle Pryor, Alex Petty, Matthew Petty; two brothers, Dale Till (Debbie) and Donnie Till (Marie) and their families; a half-brother, Gary Ashley (Debbie) and half-sister, Jo Beth Gordan and many special nieces and nephews.
A thank you to all her family and friends and a special thank you to her dear friends Judy Holcomb, Jewelene Cornish, Sally Bell, Bea Olivares and Betty Holcomb for all the visits, phone calls, love and prayers.
The family would like to thank Vitas Hospice for all of their care and support.
Betty will be missed terribly by everyone that loved and knew her.
A visitation will be held on Sunday, May 13, 2018 from 5:00pm – 8:00pm at the Crowder Funeral Home in La Marque.  Funeral Service will be at 11:00am on Monday, May 14, 2018 at the Crowder Funeral Home.  A graveside service will be at 11:00am on Tuesday, May 15, 2018 at Starr Hill Cemetery in Elkhart, Texas.