Bertrum "Bubba" E. Smith II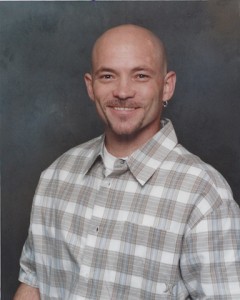 Bertrum "Bubba" E. Smith II, 46, passed away Thursday, January 7, 2016, from injuries sustained in an unexpected accident in Galveston Texas.
Bert was born in Texas City, Texas on March 28, 1969. He was a graduate of La Marque High School in 1988 and a Welder by trade. He was a hard working fun-loving man with innumerable talents. Bert developed a passion for art at a very young age and grew to become an extraordinary artist and craftsman. His works featured colored pencil, airbrush, paint and handwritten typography, and he later became well known for his amazing tattoo skills.
He was preceded in death by his parents Bertrum E. Smith in 1999 and Peggy J. Smith in 2010 of La Marque. Bert is survived by his sister Staci Smith Taylor and her husband Michael of Santa Fe, a niece Stephanie Evans of League City, and many cousins. Bert will be deeply missed by those that knew and loved him.
Funeral service will be held at 11:00am Saturday, January 16, 2016 at James Crowder Funeral Home, 401 Texas Ave., La Marque, TX 77568 with Pastor James Benson officiating. Interment will follow at Galveston Memorial Park in Hitchcock, Texas.
Memorial contributions may be made to Celebration House Church 1007 E Camp Circle La Marque, TX 77568 in the name of Bert Smith.