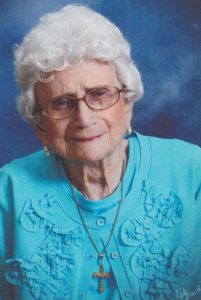 Berniece Eleanor Crowley of Nassau Bay (Texas) died December 20, 2016, at the home of her daughter and long time caregiver, Judith Crowley. She would have been 104 in January.
Berniece was born January 9, 1913, in Fond du Lac (Wisconsin), the daughter of John J. and Esther (Averbeck) Magdefrau. She graduated from Fond du Lac High School, Class of 1931 and attended a local business college, where she learned skills that would last her a lifetime. Early on in her business career she was a paralegal to a local attorney before the concept of a paralegal was formalized. She spent many years as the personal secretary to the President of the University of St. Thomas in Houston and ended her career as the secretary of the Early Childhood Development Laboratory at the University of Houston, Clear Lake.
Upon moving to Nassau Bay in 1972 Berniece and her husband Laurence became charter members of the congregation of St. Paul the Apostle Catholic Church. For more than 50 years Berniece was also an active member of the Legion of Mary, at parishes in Milwaukee (Wisconsin), Memphis (Tennessee), Houston (Texas), and Nassau Bay.
Survivors include her daughter, Judith Crowley of Nassau Bay (Texas), her son John Crowley and his spouse, Linda Clements of Dayton (Nevada), grandsons Michael Schroeder (wife Nancy Shearer) of Campbell (California), Timothy Crowley and Colin Crowley also of Dayton, and great grandchildren, Matthew and Megan Schroeder also of Campbell.
Also nieces and a nephews , Joan McCoy, Susan Steinmetz   Mark Magdefrau of Fond du Lac Wisconsin;and Carl Brugger of Granite Shoales,(Texas)
Berniece was preceded in death by her parents, her husband of 51 years Laurence Crowley, her sister Ariel Brugger of Prairie du Sac (Wisconsin) and brother Floyn Magdefrau of Fond du Lac (Wisconsin), and a grandson, John Schroeder of Houston (Texas).
Funeral Services will be held at St Paul the Apostle Catholic Church, Nassau Bay on Wednesday, January 4, 2017: Rosary at 9:30 AM followed by a Funeral Mass at 10:30 AM. Following the Funeral Mass her body will be interred at Forest Park East, League City, Texas.