Bernard "Barney" "PoPo" Ray Martin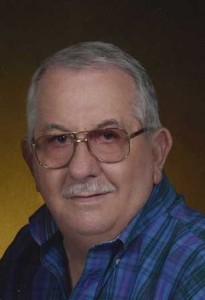 On the afternoon of February 19th at 12:05pm, Barney passed away peacefully after a long illness of congestive heart failure and end stage renal disease. Barney was visited and comforted by his family members at his time of passing. He was 83 years old when he went home to be with his Lord and Savior.
Barney was born in Dallas, Texas on May 24 1931. He was the oldest of 3 kids, and first son of Richard and Marie Martin. At some time in his life, his family moved to San Antonio, Texas, where he met his future bride, Erneal. While serving in the U.S. Navy during his tour in the Korean War, Barney and Erneal were married October 4, 1952 in Ventura, California. Following discharge, he and his wife moved back to San Antonio, Texas, where they had their three children, Rhonda, Steven, and Dee Ann. They lived in San Antonio for 7 years; then moving to Houston in 1961, before settling and calling La Marque home in 1963. He was an active member and Deacon of Highlands Baptist Church; serving on several committees. He worked his entire life in the paint industry, most of which he served as store manager for Paul Shean Company in Galveston, Texas, before retiring from Lowe's in 2003. He was lovingly known as "'Ol Paint" during his tenure at Lowe's.
He was preceded in death by his mother and father and his beloved son, Steven. He is survived by his wife, Erneal, brother Glenn Martin and wife Scotty, sister Frances Martin, daughters Rhonda Scott & Dee Ann Forasiepi, and his son-in-law, Phillip Scott; including 6 grandchildren, Amanda Brewer (Jay Brewer), Aaron Brewer (Casie Brewer), Andrea Link (Joe Link), Allison Saldivar (Seth Saldivar), Steven Forasiepi (Desiree Brown) and Lyndee Forasiepi (Paul Pool). He had 9 great grandchildren Alex, Nathan, Reese, Isaiah, Averie, Tristen, Zane, Ellie and Carleigh.
The viewing will be held at Crowder Funeral Home in Dickinson, Texas on Sunday February 22nd from 5pm to 7pm. The services will be held at Highlands Baptist Church on Monday, February 23rd at 2pm officiated by Reverend J.V. Helms of Victoria, Texas. Funeral procession will be going to Forest Park East in Webster, Texas following the services.
Donations may be made to Highlands Baptist Church in his memory.