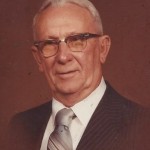 Ben Lee Bozeman, age 94, passed away June 22, 2014, at his residence. He was born April 17, 1920 to Walter Elbridge and Sarah Emma Williford Bozeman in Kountz, Texas. He graduated high school in Latexo, Texas and served in the US Navy in WWII. In 1957, he and his wife Velma Pauline (Clines) Bozeman and two daughters moved from Lufkin, Texas to Texas City. They were co¬-owners with his brother Fred and Zeta Bozeman of Bozeman Appliance Store which he operated with his nephew Walter Bozeman until retiring in 1986. Ben & his family were charter members of St. John's United Methodist Church. He was a member of the Noon Optimist Club of Texas City where he served two terms as president. He loved to hunt and fish and was an avid gardener. He created beautiful stained glass which he shared with friends and loved ones. Ben was a special friend to all who knew him.
He was preceded in death by his wife of 40 years, Velma Pauline Clines Bozeman, his parents, his brother and sister-in-law Fred and Zeta (Clines) Bozeman, and his sister and brother-in-law Minnie and A. Y. Collier. Survivors include his wife of 28 years Vera McVey Bozeman, two daughters, Velmanel Bozeman Petty and special friend Robert Hutchins; Linda Kay Bozeman Blair and husband Charles Blair; four step-children Vicky & Kenneth Mills, Becky Davidson, Kathy & Ryan McKee and Kent & Kathryn McVey; two grand¬children Chris &Athena Petty and Paula Walker; four great-granddaughters¬ Kayla, Kristen & Meagan Walker and Taylor Petty; one great, great grandson Cayden Flanagan; nine step-grandchildren and seven step great-grandchildren; many nieces, nephews, cousins and friends.
Visitation will be Tuesday, June 24, 2014 from 5:00 to 6:00 p.m. at St. John's United Methodist Church at 8200 25th Ave North, Texas City. Funeral Services will be 6:00 p.m. at St. John's with Rev. H. Michael Tyson, officiating. A graveside service will be 11:00 a.m. Wednesday, June 25, 2014 at the Evergreen Cemetery in Crockett, Texas.
The family requests memorials be made to St. John's United Methodist Church, 8200 25th Ave. North, Texas City, Texas 77591