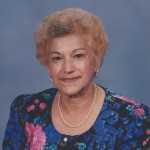 Belia Trevino Silva, 80, peacefully surrounded by loving family, went to be with God on Friday, July 11, 2014 at her home in La Marque, Texas. She is survived by her husband, Ramiro Silva, Sr., and together they raised five children: daughter, Maria Eliza Marquise (Howard), son, Ramiro Silva, Jr. (Patricia), daughter, Marie Stella Silva, son, Ricardo Silva, and son, Roberto Silva (Sue). Grandchildren include Olivia Maria Marquise, Andrea Rebecca Marquise, Stephanie Marie Silva, Tommy Bruce Harris, Rebecca Denise Silva, Emily Elizabeth Marquise, Christian James Harris, Sara Elyse Silva, Ramiro Ezequiel Silva, and Leah Celeste Silva.
She is survived by two siblings, brother, Arturo Trevino, sister, Oralia Trevino, and numerous nieces and nephews. She was preceded in death by her mother, Enemencia Trevino, and father, Ezequiel Trevino Sr., brother, Ezequiel Trevino, Jr., brother, Marciano Trevino, brother, Fernando Trevino, sister, Lydia Torres, brother, Brother Jude Ernesto Trevino, and brother, Armando Trevino.
Belia was born on August 19, 1933 in Harlingen, Texas. She was a member of Assumption Catholic Church where she taught Sunday school and was frequently asked to sponsor first communion students and be a godmother at baptisms. She married Ramiro on September 2, 1960. She was a devoted wife and loving mother who demonstrated her love for family through the countless hours she volunteered and the donations she made. She had commadres and compadres, Cruz and Diego Cortez, Adela and Frank Sifuentes and Carmen (†) and Israel Rojas, whom she loved dearly. She worked for ARA at UTMB in Galveston from 1967 until her retirement in 1990 and made many close friends there as well.
The family would like to acknowledge their gratitude to her Geriatrician, Dr. Maria Camacho; the A-MED Health Care Group, especially nurses Effie and Danielle, for their hospice care; and to Father Hector Medina for his spiritual guidance.
Visitation will be from 5:00 – 8:00 pm, with a vigil and rosary on Monday, July 14, 2014 at 6:30 p.m.
A funeral liturgy will be held on Tuesday, July 15, 2014 at 10:00 am at Queen of Peace Catholic Church, 1224 Cedar Drive, La Marque, Texas, 77568, with Father Hector Medina officiating. Interment will follow at Hayes-Grace Memorial Park in Hitchcock, Texas.
Pallbearers will be Ramiro Silva, Jr., Ricardo Silva, Roberto Silva, Howard Marquise, Tommy Harris, Christian Harris, and Ezequiel Silva.