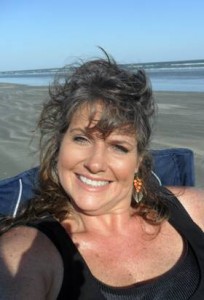 Barbara Jane Shipley died peacefully October 4, 2015 with her mother and daughter at her side. She was born September 9, 1964 to Joe Dell Shipley, Sr. and Patricia Sue White in Texas City. She was a lovely child who enjoyed decorating and homemaking with her mother. She was in FFA in school and danced as a Pantherette with cousin and best friend Kathleen. She attended Clear Creek High school but graduated from Texas City High School in 1983. She worked in a candy shop in the mall during high school. She attended San Jacinto College for some time before working at McDonell Douglas and working her way up to Systems Analyst. She was a quick learner and easily worked her way up the ladder. She was adored by co-workers. She even trained astronauts how to work computer programs. She had her first and only child in 1986 and raised her on her own. She was a strong willed person who endured a lot of hardships but was too proud to acknowledge many of them. For these reasons she raised a strong daughter in her 29 years with her. Jane was finally able to achieve a lifelong dream of owning an interior design shop in September of 2012. Inspirations…by Design was located in the heart of League City on Main Street. She offered many home décor options for the fall season, which was her favorite, as well as Halloween, Christmas, and every day décor. She also provided in-home decorating services. Not long after opening she began to get sick and had to eventually close up shop. She loved the opportunity while it lasted. She loved to decorate for her mother and siblings as well.
Jane was a beautiful soul who touched many a persons life. She loved to listen to music, sing, dance, decorate, garden, enjoy the great outdoors, and spend countless hours with her family. She was known to make the best lasagna and fudge around. Despite her darkest days she managed to bring love, light, and laughter to all who knew her. She was an excellent mother who raised a child all on her own, and could not have been more proud of her daughter she jokingly called her "Freak of Nature". She spent many "Fun Fridays" with nieces and nephews who lovingly referred to her as "Cool Aunt Jane." She helped raise her youngest brother, Jake, and acted as a surrogate mother for many of her daughter's best friends. She would take care of any and everyone. Her love for others knew no bounds. Her last wish was to be able to bring her father, Joe Dell, home to care for him. Unfortunately, the cancer had got the best of her. She had many down days over the years, but when she was up, she would run the rest of us ragged. She took no good days for granted, no bad days either. She suffered long and hard without complaint. She has been a role model, inspiration, and show of faith for many. She will be dearly missed.
Jane is preceded in death by Grandparents Joseph and Josephine Newsome; Dearest Step-Father Paul Edward White; and Brother Paul Welling White; she is survived by Daughter Amanda Shipley and her fiancé Markos Mendoza; Mother Sue White; Father Joe Dell Shipley; Brothers Joe Shipley and wife Becky, Randy Shipley and wife Becky, Jake White and wife Carrie, Sister Janet White; Nieces and Nephews Matthew, Macy, Conor, Sam, Katie, and Joey Shipley, Haley and Molly Shipley, and Lathan and Clayton White. She leaves behind beloved aunts and cousins.
The Family will receive friends on Wednesday, October 7, 2015 at 6:00pm with a Rosary at 7 o'clock at Crowder Funeral Home, 1645 East Main Street, League City, Texas 77573. A Mass will follow on Thursday at 10:30am at St Mary Catholic Church, 1612 East Walker, League City, Texas 77573. Interment will take place at Mount Olivet Cemetery in Dickinson, Texas .