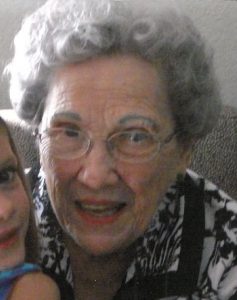 Mrs. Barbara Gibbs was born April 25, 1924 in Gorman, TX and passed away on January 18, 2018 in Pearland, TX at the age of 93.  Mrs. Gibbs was a resident of Pearland, TX for over forty years and a member of Sagemont Church.
Mrs. Gibbs is preceded in death by her husband; William Currie Gibbs Sr; husband, George Tavis Gibbs, Jr.; parents, Bunyan and Dora Sanders; sister, Louise Albertson; son-in-law, Dee Gray.
Barbara leaves behind her daughters: Sharlene Farrar, husband Tom and Jeanne Beth Gray; son, William Currie Gibbs Jr., wife Kay; sister, Jeanne Sanders Powers; grandchildren: William Currie Gibbs III, wife Hannah, Barbara Ellen Kunkel, husband Curtis, Richard Travis Gibbs, wife Dana and Dee Anne Rivas, husband Andrew; great grandchildren: Peyton Dee Rivas, Cooper Phillip Rivas, Raven Olivia Kunkel, Mary Catherine Gibbs and William Travis Gibbs.
Family will be accepting friends Thursday, January 25, 2018 at 9am with a service to begin at 10am in the chapel of Crowder Funeral Home in Pearland. Burial to follow at Forest Lawn Cemetery. Mr. William Curie Gibbs, Jr. and Pastor Rex Forsyth will be officiating.
Pallbearers will be: Kenny Stegall, Bryan Farrar, Kendal Farrar, William Currie Gibbs III, Richard Travis Gibbs, Brad Baethe, Jay Powers and C.J. Roitsch.
Honorary pallbearers: Jimmy Powers, Charlie Roitsch, Frank Baethe and Bill Albertson.
In lieu of flowers, please make memorial contributions to: Sagemont Church or to First Houston Doll Club.