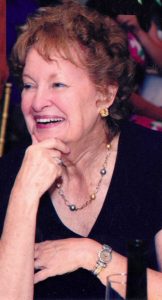 Barbara Crowley Gillis passed away November 23, 2022, at home surrounded by her family.  She was 86.  The daughter of Carroll and Dorothy Crowley, Barbara was born in Lock Haven, PA on October 5, 1936.  She attended Lock Haven Teachers College, where she earned a degree in education. Barbara met her lifetime love, Raymond Gillis on a blind date, and they were married June 20, 1959. They raised four children together. They were residents of Clear Lake City since 1967.
Barbara was a founding member of St. Bernadette's Catholic Church, and in past years was involved with the RCIA program, served as both lector and commentator for mass, was a eucharistic minister, and was a hostess for funerals for many years.  Barbara and Ray were also pre-marriage counselors and were involved in the St. Bernadette's 25th Anniversary celebration planning. Barbara loved St. Bernadette's and attending daily mass when able.
Barbara taught 4th grade at G. H. Whitcomb Elementary School for 20 years. She served on many committees there and had a passion for teaching. She really loved her students.
Barbara enjoyed traveling with her husband and many of the St. Bernadette's parishioners after retiring from teaching. She was a voracious reader, loved hosting dinner parties, and loved a good margarita.  Perhaps her all-time favorite hobby, that she enjoyed for over 20 years, was skiing with her husband in Breckenridge, CO.
Barbara was a wonderful, devoted wife, mother, grandmother, and great grandmother.  She was generous with her time, her love, her smile, and her prayers for our family. We are so grateful for the many memories she helped create for our family. She was such a blessing to us and will be greatly missed.
Barbara is preceded in death by her beloved husband Ray, her parents, her sister Dolores and husband Dick. She is survived by her son John and wife Bonita, daughter Maureen and husband Thomas, daughter Katie, and son Patrick and wife Nicole. Grandsons Joshua Kelley and wife Sarah, Travis Kelley, Samuel Reagan, Brian Reagan, Preston Gillis and Reagan Gillis.  Granddaughters Erin Reagan and Holly Kelley and great granddaughter Olivia Kelley.
On Monday, November 28, 2022, Barbara's family will greet guests from 6:00 pm to 8:00 pm at Crowder Funeral Home, Webster, Texas. A Funeral Mass will be held on Tuesday, November 29, 2022, at 10:30 am at St. Bernadette Catholic Church, 15500 El Camino Real, Houston, Texas 77062.