Barbara "Bobbie" (Decurtins) Wells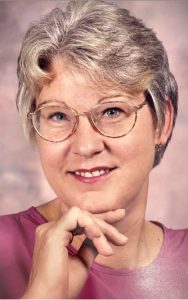 Barbara "Bobbie" (Decurtins) Wells went to meet her maker on August 12, 2020. Bobbie was born May 4, 1952 in Texas, to LaDean and Robert Decurtins, and spent much of her childhood with her five siblings and an honorary sister/ niece in Aberdeen, South Dakota. She graduated in 1970 from Roncalli High School. She ended up in Hazen, North Dakota, where she had her four children, who were her pride and joy. She married John Sam Wells, Jr. in 1992 and settled in Hitchcock, Texas. With her marriage, she welcomed Carla, Shane, and Josh with open arms to her ever growing family.
Bobbie spent her working years at the Olive Garden where she cultivated many friends and truly exemplified the motto of "When you're here, you're family." She had a fierce work ethic and brought new meaning to "Hospitaliano!" She touched the hearts of all who knew her. She retired to Frankston, Texas with Sam and settled into farm life. Nothing made her happier than tending the garden, reading a good book, watching her grandkids play at the farm, and planning her next vacation. Bobbie loved to travel, whether in an RV or tent camping, at a hotel next to the pool, or hopping on a boat for a cruise destination, she was happiest when she was traveling.
Bobbie was selfless and extremely optimistic. She always saw the bright side of life and kept a smile on her face. She was always so proud of her children and their accomplishments. Becoming a Nana was, by far, her greatest joy. She loved nothing more than sitting back and watching them grow.
She was preceded in death by her parents, her brother Russell and her sister, Cathy. She was survived by her: husband, Sam; her children, Ryan (Sarah) Morrison, Kim Morrison, Tiffany (Ryan) O'Heron, and Trenton Morrison; and her beloved grandchildren, Alex, Breadon, Kellen, Ryan Jr. and Stella. Also, her bonus children Carla, Shane, Josh; brothers, John, Don (Patty), and David; sister-in-law, Brenda; sister/niece, Melinda (Terry) and many nieces and nephews.
A celebration of life will be held to honor Bobbie on September 26, 2020 from 5:00 to 7:00pm at Crowder Funeral Home at 111 East Medical Center Blvd, Webster TX 77598. Please come with your funny anecdotes, or special memories to share.