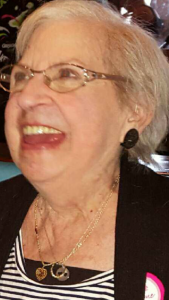 Mrs. Barbara Ann Veit was born August 30, 1933 in Chicago, IL and passed away surrounded by her loved ones, on April 12, 2016.
Barbara was married to Charles Hooper Sr. at a young age and had 5 beautiful children; three sons and two daughters. In 1975, she married William Veit and eight years later they moved to Houston, TX where they spent her remaining years together. Although she worked various positions during her life, they did not define who she was. Of all the titles and accomplishments she achieved throughout her life, the one she was most proud of was being a mother. She was a woman that lived for her family and would do whatever she could for anyone with a smile.  Her hobbies included gardening, needlework and she loved cooking and baking. With all the various ailments she endured in her later years, she never complained and was thankful that she was still here for her family. She would be so overcome with emotion if she knew the outpouring love that her family has received in her memory. She will be greatly missed by her family, friends and the many lives she touched.
She is preceded in death by her sons: Charles Hooper Jr. and Richard Hooper Sr.; parents, Clarence and Audrey Poffenberger; brother, Clarence Poffenberger Jr.
Mrs. Veit leaves behind to cherish her memory, husband of 41 years, William "Bill" Veit; daughters: Linda Lamm, Susan Hooper and fiancé Ed Lee; son, Scott Hooper and wife Karen;  step-sons Scott Veit and wife Amy and Hans Veit and wife Lisa; daughters in law: Sandra Hooper and Nancy Hooper; grandchildren: Chrissie Gore and husband Mike, Tyler Hooper, Morgan Hooper, Lynn Marie Davenport and husband Steve, William Hooper, Richard Hooper Jr., Karyn Audrey Hooper Bagnall and husband Joe; step grandchildren: Katrina Veit, Alex Veit, Erica Veit and Abby Veit; great grandchildren: Stella Shaiane Gore, Sophia Davenport, Tess Davenport, Hannah Davenport, Nora Davenport, Lucas Hooper, Avery Hooper and Becca Hooper.
A visitation will be held Monday, April 18, 2016 from 5-9 pm at Crowder Funeral Home in Pearland. Funeral service will begin 11am Tuesday, April 19, 2016 in the chapel of Crowder Funeral Home with a burial to follow at Forest Park Lawndale.
Pall bearers will be: Richard Hooper Jr., Michael Gore, Kenny Fernandez, William Parrish, Jared Parrish and Tyler Parrish.