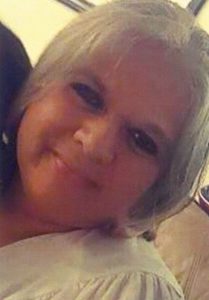 Barbara Ann Vasquez, 55, of Texas City, passed away Wednesday, February 7, 2018, in Houston.  Barbara was born June 14, 1962, in Victoria Texas, to Johnny and Mary Ellen Vasquez.
Barbara was a member of Queen of Peace Catholic Church.
She is preceded in death by her parents and sister Mary Jane Perez.
Barbara is survived by daughters: Abril Rubio and Bianca Rubio; two sons: Abraham Vasquez and Agustin Rubio; her sisters: Terry Papillion and Katherine Vasquez; brothers: Johnny Vasquez, William Vasquez, Nicholas Vasquez, Jack Vasquez and James Vasquez and thirteen grandchildren.
A visitation will be held on Friday, February 16, 2018 from 4:00pm – 5:30pm at the James Crowder Funeral Home in La Marque.  Funeral Service will follow at 5:30pm at the James Crowder Funeral Home with Father Chacko Puthumayil officiating.