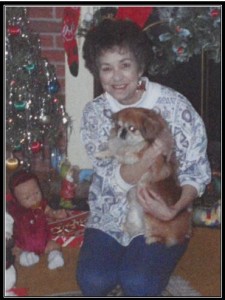 Barbara Ann Richard, 76, of Texas City passed away Monday, April 20, 2015 at Mainland Medical Center surrounded by her family. She was born June 24, 1938 in Port Barre, Louisiana to Walco and Alice Richard. Barbara was a resident of Texas City for over 35 years; she loved to dance and had a love for her dogs.
She is preceded in death by parents, Alice Matte Pritchett and Finley Pritchett, Sr., sister, Mildred Lankford (Dennis), and brother, P.C. Richard.
Barbara is survived by her sister Reable Richard Reegan (Jim), brothers, Floyd Richard, Sr. (Vivian), W. Jay Richard (Frankie) and Finley Pritchett Jr., (Carolyn) and Lela Richard and numerous nieces and nephews. A special thanks to Rene Denny, Frankie Richard and Jenny Reegan Johnson.
A Graveside service will be held at Galveston Memorial Park Cemetery on Saturday, April 25, 2015 at 12Noon with Father Chacko Puthumayil officiating.
Arrangements were under the direction of the James Crowder Funeral Home in La Marque.