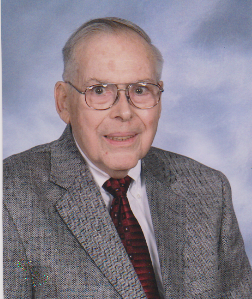 Baldwin (Baldy) Bridger, Jr., 90, died August 11, 2019. He was born in Savannah, Georgia on September 18, 1928 to Baldwin Bridger, Sr. and Helen Stubbs Bridger.
Baldy identified two moments that most positively impacted his life. One was relocating to Houston in 1973 to become the Chief Engineer of Powell Electric. This position allowed him to make the most of his talents and education. During his time at Powell, he became heavily involved with the Institute of Electrical and Electronics Engineers (IEEE). He served on several committees of the international organization and held all the offices, including president, of the IEEE technical society, Industry Applications Society. He received several technical and service awards, including the prestigious award of Fellow.
The other, and more significant, moment was marrying his "sassy girlfriend", Wilma Grace Martz, on March 21, 1953. They met in Sunday School, while Baldy was serving in the Navy and Wilma was a nurse. They lived a comfortable, happy, faithful life, and he has missed her every day for the last three years.
While he will be reunited with the love of his life, he will be missed dearly by those left behind, including his daughter (and devoted caregiver) Ruth, her husband Richard Dinhobl, and their sons Andrew and Mark; son John and his wife Donna, their children Katie (and Erich), Zach (and Alyssa, with baby Lyndon), and Austin; and daughter Mary Gere, husband Gregg Wamsley, and sons Seamus and Simon.
A viewing will be held Thursday, August 15 from 6-8pm at Crowder Funeral Home Clear Lake followed by a memorial service at Clear Lake United Methodist Church, Friday, August 16 at 10a.m. In lieu of flowers, please send donations to UMCOR, through your local Methodist Church or at http://www.umc.org/how-we-serve/responding-to-disaster.