Aurelia Erin Marcia Wickramasinghe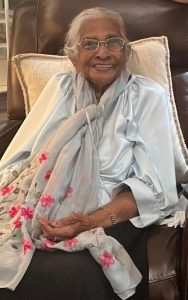 Aurelia Erin Marcia Wickramasinghe (Mimi), beloved wife of Late Hector S. Wickramasinghe, passed away on July 9, 2022, in Nassau Bay, Texas. She was born on July 15, 1926, in Moratuwa, Sri Lanka to Henry Marcus and Aurelia Peiris. She was the sister of late Henrietta Fernando and sister-in-law of late R.T.N. Fernando and Dayawathie Alles.
Mimi is survived by daughters Nirmala and Niranjala, son Mahes, sons-in-law Sarath and Ivan, daughter-in-law Marie, grandchildren Mayumi, Ishan, Maheen and Dilshan, great grandchildren Mayuca and Minuc and numerous family members and friends. She read for her degree at the University of Ceylon and she was a Mathematics and Geography teacher in Sri Lanka. She had a passion for life, adventure, creativity for food, arts and crafts. Mimi passed away peacefully towards her journey to be with God.
Celebration of Mimi's life will take place at the Mary Queen Catholic Church, 606 Cedarwood Drive, Friendswood, Texas 77546 on Monday July 11, 2022, starting at 6PM with service at 7PM followed by dinner.