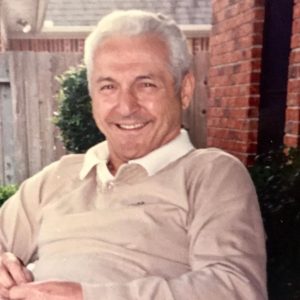 We are sad to announce the passing of USCG Retired Lt. Commander Anthony "Tony" Kasparian, age 90. Tony joined the love of his life Peggy in Heaven on October 26, 2022.
     Tony never met a stranger and humbly admitted he would leave this world with no regrets having led a charmed life. Born to Armenian immigrants in Troy, New York, young Anthony was doted on by his parents Sultan and Kevork Kasparian and beloved sisters Lucy and Elizabeth.
     While he'd admit to not being the best student, he excelled at just about every sport and even played semi-pro basketball and soccer. At 18, Tony joined the Navy for "five of the best years of his life" including distinguished service in the Korean War.  In 1955, Tony claims to have won life's lottery when he met and later married his wife, Peggy.  Peggy was by his side as he joined the U.S. Coast Guard and made it through Officers Candidacy School in Norwich, CT.
     Peggy and Tony along with their three daughters, Vicki, Susan and Cindy would enjoy homes and adventures in several states as well as GITMO, Cuba before being transferred to Houston, Texas.  There, Tony would finish out his illustrious career in the Coast Guard and stay at the Port of Houston working for his best friend Frank McGinn at Marine Repairs, Inc.
     Retirement included a move to Boerne, TX where Tony made friends with just about everyone in town and was often encouraged to run for mayor.  Instead, Tony filled his free time serving others, volunteering at the Boerne Animal League and enjoying odd jobs at the Antique Mall and the Boerne School District.
     Peggy and Tony made their way back to Friendswood to be near their children and grandchildren and in doing so landed in the Parkwood Village neighborhood where Tony quickly became a favorite resident.  He'd lend a helping hand to anyone who needed it.  After his cancer diagnosis in 2021, it was those same neighbors who reached out to help Tony.  He often spoke with thankful gratitude for their unending kindness.  He was also deeply grateful to Rebecca and Amy of Village Hospice, as well as his caregivers Mary Jane Hale and Maria Herebia.
      Tony cherished his three daughters and their families and adored his Armenian Clan on the East Coast.  Tony was preceded in death by his wife, Peggy Bays Kasparian, grandson, Jared Philip Griffis, and sister Elizabeth Hess.  He is survived by sister Lucy Alund and husband Donald Alund, daughters Vicki Anderson, Susan McGee, Cindy Griffis and husband Philip; grandsons Wyatt and Jackson Griffis, Anthony Howell; granddaughters Molly Anderson and Stacy Howell and numerous nieces and nephews.
      Tony will be laid to rest during a private service at Houston National Cemetery.  Friends and relatives are welcome to attend a Celebration of Life and Luncheon to be held Sunday, January 29, 2023 at South Shore Harbor Resort and Conference Center.  Details will be made available through social media and Crowder Funeral Home in early January.
      In lieu of flowers, please make a donation to your favorite animal charity.