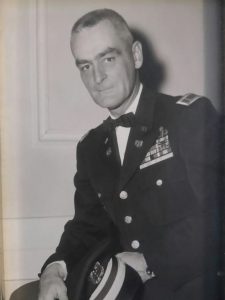 Before leaving for school from the Jamaica, Long Island train station, the conductor would announce the route: " This train stops at".
St. Albans, Springfield Gardens, Lynbrook ,Rockville Center, Baldwin,  Freeport,  Merrick, Bellmore, Wyandanch, Seaford, Massapequa, Amityville, Copiague, Lindenhurst, and Babylon. " All others change"!
"Tony" made his final changes years later at this check point. In the meantime he slipped away from us and went home completing his life's journey. But – not before he served in the military (Army) all through WWII participating in seven campaigns and three invasions with 1st Infantry Division and the British 8th Army as well as many more campaigns from North Africa thru to Germany.
He later served in Korea and was in the 101st. Airborne. Tony served a total 23 years with the Military; 20 years with Grumman Aerospace and 10 years with Houston Area Safety Council – finally retirement! Which he thoroughly enjoyed with his wife, Ann and family.
Tony is predeceased by his first wife Angelina Helen, who stood by his side through out his Military career and years with Grumman, and also his grandson Brian Cabe.
He is survived by his wife Ann, Children; Diane(Lewis), Dennis (Maria), Roy (Ana), Stephen (Marie) Robert (Dee).  13 Grandchildren, 4 Great Grandchildren, Each and everyone gave joy to his life. He loved them all.
Services are at Crowder Funeral Home in League City at 11:00am Followed by Military Graveside Services at the Houston National Cemetery at 2:00pm.
This complete his final stop…