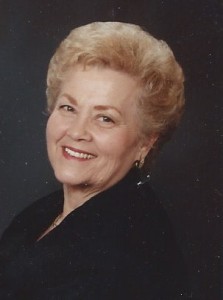 Annetta Y. Courtney, 75, of La Marque passed away on Thursday, May 07, 2015 at her residence. She was born February 2, 1940 to Noah and Effie Young in Eunice, Louisiana.
Annetta was a resident of La Marque since 1970, a member of Mainland Community Church and a Special Education Teacher for over 30 years with GISD. She loved people and had a great appreciation for nature and animals. She enjoyed spending time in her yard and garden as well as cooking for her family.
She is preceded in death by her parents and her husband Dwight Courtney, Sr. She is survived by her daughter Tonya Courtney of San Diego, CA; sons and daughters-in-law: Dwight Courtney, Jr. of La Marque, Kenyon and Renee Courtney of Bayou Vista, Brian and Patty Courtney of Bayou Vista, Kyle and Chris Courtney of Friendswood, and Lyle and Charlene Courtney of League City; twelve grandchildren Cassie, Christin, Cahla, Brooke, Chelsea, B.J., Hannah, Christopher, Colin, Kyra, Zachary and Caitlyn; three great-grandchildren Haleigh Helgeson, Samuel Hardwick and Caleah Courtney; and her brother Roger Young of Eunice, Louisiana and sister Ann Lynn Morris of Eunice, Louisiana.
A visitation will be on Tuesday, May 12, 2015 from 5:00pm – 8:00pm at the James Crowder Funeral Home in La Marque. Funeral Service will be on Wednesday, May 13, 2015 at 10:30am with Pastor Jeff Spielman officiating.
In lieu of flowers, donations can be made in memory of Annetta Courtney to the ALS Association at www.alsa.org.