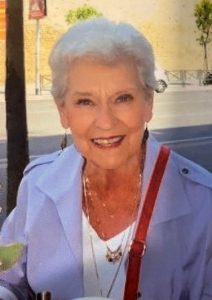 Anne was born at St. Joseph Hospital in Houston, TX to Mildred and John E. McKivett on March 18, 1936.  Although she missed St. Patty's Day by one day she always thought of herself as a St. Patty's girl.  She loved the color kelly green and her DNA tests showed she was 100% of Irish decent.
She graduated from San Jacinto High School, Class of 1954, in Houston and attended Southwestern University in Georgetown TX, where she was a member of Zeta Tau Alpha sorority.  She remained close friends with many of her fellow Southwestern classmates throughout her life, meeting frequently with their "Chicken Fried Steak" group to share a meal and great memories.  She had many wonderful friends throughout her life but the closest and longest (81years) was Harriet Nicholas Wolda.  She and Harriet received first communion together, went to high school and college together, were maid and matron of honor at each other's wedding, they each had 2 boys and 2 girls and amazingly each had a special needs child, it is a friendship many people would envy!  In college, she met her first husband, Sam Newman Sullivan, they had four children.  They divorced in 1968.  For a few years she was a working single mom.  She worked for Humble Oil (Exxon) where she met her second husband, Frank Glenn Platzer, and became a stepmom to Glenn's three daughters.  Anne and Glenn were married until his death in 2010, over 38 years.  After her marriage to Glenn, she was able to be a stay at home mom.  During this time she became "The Avon Lady".  She sold Avon for many years and had a lot of loyal customers.  She was a born sales lady!  She won numerous sales awards while working for Avon.  When Glenn retired from Exxon, they moved to "the lake" in Livingston, TX.  They lived in Livingston over 20 years and they were very active in St. Joseph Catholic Church and volunteered with the Life Class for special needs kids at the local junior and senior high schools. During retirement, they enjoyed traveling, especially to Cancun, Mexico and Bar Harbor, Maine.  They truly enjoyed their time and friends in Livingston where she continued to sell Avon.  When Glenn became ill they moved back, closer to family, and lived in the Bella Vida community of Pearland for a few years.  After Glenn's passing, she moved into Trinity Oaks of Pearland, where she spent her remaining years.  We would like to deeply and sincerely thank Karla Orduna, Executive Director, and the staff at Trinity Oaks for helping us in Mom's last few years. Special enormous thanks to her loving caregivers, Lucy, Maggie, Brianna, Vanessa and others.  They were with her 24/7 for over two years.
Anne was a longtime member of St. Helen Catholic Church in Pearland and a proud member of Catholic Daughters.
She was preceded in death by her loving husband of 38 years, Frank Glenn Platzer; her "special angel" son, Michael Patrick and two stepdaughters, Melodie and Cindy; brother, Charles Carroll McKivett and sister, Betty Jean McKivett Hightower.
She is survived by daughters, Sheryl Barrett and husband Steve, Susanne Casteel and husband Randy; son, Sam N. "Buddy"  Sullivan, Jr. and wife Beverly; stepdaughter, Linda Platzer; grandchildren, Courtney Gill, Stephanie Gardner, Cody Casteel, Brian Sullivan, Brendan Barrett, Chris Platzer, Jennifer Brown, Jason Leftwich; 7 great grandchildren and numerous nieces and nephews.
A visitation will be held form 5 p.m. to 7 p.m. with a rosary at 6 p.m. on Thursday, November 3, 2022 at Crowder Funeral Home in Pearland, TX. Mass will begin Friday, November 4, 2022 at 1 p.m. at St. Helen Catholic Church in Pearland, TX. Followed by a reception at the church continued with a graveside at 3:30 p.m. Friday, November 4, 2022 at Forest Park East Cemetery in Webster, TX.
In lieu of flowers, please make memorial donations to https://support.specialolympics.org/