Anne Elizabeth Jones Lockett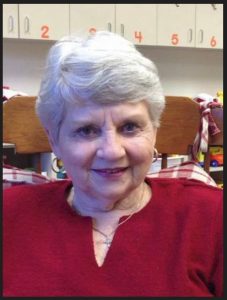 Anne Elizabeth Jones Lockett, 88, passed away peacefully on October 8, 2022 surrounded by her loved ones. Anne was born on June 15, 1934 in Birmingham, Alabama to Bertha Mae and John James Jones. She was married to Ben Lockett for 65 years until his passing in 2018. Survivors include Catherine West and husband Steve, Scott Lockett and wife Karen, Bennie Sidman and husband Jud, and Carrie Lockett. Grandchildren include 7 granddaughters, 2 grandsons, 8 great granddaughters (another on the way in March) and one great grandson. Also surviving are her 2 nephews and their wives, Wayne and Debbie House, and Paul and Debbie House. She was predeceased by her sister Dorothy House and niece Cindy Gill.
Anne and Ben soon married after high school graduation and moved to Auburn, Alabama while he attended the college. It was there that she took a class in Bridge and fell in love with the game. Anne went to nursing school to become an LVN, and she worked for Clear Lake Hospital in Labor and Delivery for 3 years. Then she worked for Ob Gyn and Associates until her retirement in 1995. She enjoyed her job and friends there and would get so tickled when she shared some of the stories.
Anne enjoyed Bridge and played with a group for over 50 years. She also played with another on Wednesday's and not much would stop their game from happening. The only way she wouldn't play was if she was at the river.  She loved her river cabin and spent many years enjoying her spot on the porch swing. Anne also quilted with her group, The Rambos, for many years. She attended the Quilt Show in Houston every year with the group.
Anne was privileged to be a member of Bay Area Presbyterian Church and felt a close association with the congregation and staff. Anne loved the Lord and through her short illness, she relied on the promises God gives to His children. Anne was involved in youth mission trips and with medical missions through the church. She went on 24 mission trips associated with Mission to the World, in addition to 3 training trips, 1 trip to serve with the Latin American Conference in Marco Island, Florida, and 3 orientation trips for future mission trips. Her favorites were trips with the youth to Mexico and Jamaica.
Anne loved to travel and looked forward to planning her trips with Ben and her friends. Trips included the Holy Land, Belize, Russia, and Alaska. Her only regret is that she never made it to Italy.
The family will receive friends on Friday, October 28th from 6:00 to 8:00 PM at Crowder Funeral home, 111 E. Medical Center Blvd. Webster, TX.
Funeral services and reception will be conducted at Bay Area Presbyterian Church on Saturday, October 29th at 1:00 PM, followed by a family graveside at the Forest Park East Cemetery.
In lieu of flowers and for those desiring, memorial contributions in Anne's name may be made to Bay Area Presbyterian Church, 670 E. Medical Center Blvd. Webster, TX 77598.