Ann Elizabeth Dillard Evans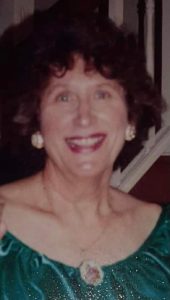 Ann Elizabeth Dillard Evans , 86 of Dickinson Texas, passed away February, 7th 2023. She was born on October, 5th 1936 in Itta Bena Mississippi to parents Walter Wilson Dillard and Ellen Thomas Dillard.
Ann was preceded in death by both parents; two sons, Kenneth Barton Evans Jr.,  and Scott Thomas Evans; brother, Walter Wilson Dillard Jr.; granddaughter, Abigail Renee Evans; and cousin, Katie Claire Ainsworth.
She leaves behind to cherish her memory her loving husband, Kenneth Barton Evans Sr.; daughter, Kimberly Evans Johnson; son, John Michael Evans; his fiance, Emily Bell;  15 grandchildren and 7 great-grandchildren.
Ann attended Humphreys High School in Itta Bena, Mississippi where she was a cheerleader and was crowned Homecoming Queen, graduating in 1954.   Ann graduated from Millsaps in Jackson, Mississippi, with a Bachelor's of Science in Education and again was a cheerleader and crowned Homecoming Queen.   She was truly adored by all.
She began her teaching career in Pensacola, Florida where she met the love of her life, Kenneth Barton Evans, an officer in the US Marine Corps.
They were married at the United Methodist Church in Itta Bena, Mississippi on June 27th, 1959.
While he flew helicopters in Vietnam and for President LBJ, she became the mother to three sons and a daughter.  All the while teaching Elementary School, and raised them seemingly effortless, with her unique southern grace.
She continued her education in Hawaii and University of Houston Clear Lake and received her master's degree in Reading DIagnostics.   Ann retired after 25 years with Pasadena Independent School District, and after retirement, she worked 9 more years at the Juvenile Justice Alternative Education Program in Texas City as their Reading Specialist and Diagnostician.
Ann was the President of Dickinson's Garden Club, an active member of the Red Hatter's Society and a long-standing member of the First United Methodist Church of Dickinson, singing in the choir and playing the bells.
In her honor, there will be a memorial service on Saturday, February 25th, 2023 at 2:00 pm at Crowder Funeral Home, 851 FM 517 Road West, Dickinson, Texas.