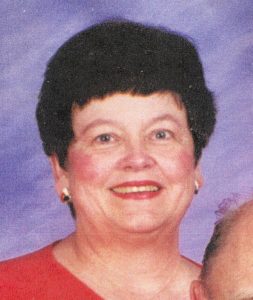 Anita Mathis Slaughter, 83, passed away on January 2, 2023 in Seabrook, Texas. She was born on December 9, 1939 in Appalachia, Virginia to Edward Holly Mathis and Edna Large Mathis. Anita was preceded in death by her husband, John T. Slaughter Sr.
She is survived by: Son, John T. Slaughter Jr., wife Elizabeth Slaughter, their children Marie Slaughter, John Slaughter III, and Catherine Slaughter.
Daughter, Angela Slaughter, her children Bryan Slaughter, wife Jazzy Slaughter, their son Isaac Slaughter and Angela's daughter Amanda Slaughter.
Son, Edward "Tom" Slaughter, wife Rachel Slaughter, their children Alexandra Slaughter, Jack Slaughter, Rebekah Slaughter, William Slaughter and Camille Slaughter.
Daughter, Amy Slaughter-Rojas, husband Camilo Rojas III, their children Camilo Rojas VI, Jessica Toler, husband Travis Toler, Alex Rojas, Ava Rojas, Ayden Rojas, and Amy's grandchildren Peighton Sanders, Ellie Toler, Stella Toler, and Kason Rojas.
A visitation for Anita will be held at Crowder Funeral Home Webster, 111 E. Medical Center Boulevard, on Monday, January 30, 2023 from 10:00 AM to 11:00 AM, with the funeral service following at 11:00 AM. The committal service will be in Dickinson at Mt. Olivet Catholic Cemetery, 7801 Gulf Freeway, at 1:00 PM.
1 Peter 5:10
And after you have suffered a little while, the God of all grace who has called you to His eternal glory in Christ will himself restore, confirm, strengthen and establish you.
Pallbearers
John T. Slaughter Jr
Edward "Tom" Slaughter
Camilo Rojas III
Bryan Slaughter
Jack Slaughter
John Slaughter III
Camilo Rojas VI
Alex Rojas
Service by:
Mike Manning of Bay Area Christian Church