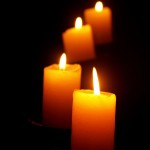 Anita Marie Angel, 42, lifelong resident of Pearland, passed away on August 1, 2015. Mrs. Angel was born February 19, 1973 in Port Clinton, OH.
She is preceded in death by her parents, Jose and Shirley Rincon.
Mrs. Angel is survived by her husband of 27 years, Lucio Angel; daughters: Selina and Christina Angel; sisters: Joyce Rincon, Yolanda Rincon, Hilda Gonzalez and husband Abel; brother, Rudy Rincon and two grandchildren Natasha and Isabella Angel.
Visitation will be held from 5-8 pm, Thursday, August 6, 2015 with a rosary at 6pm, at Crowder Funeral Home in Pearland. Funeral service will begin Friday, at 10 am, August 7, 2015, at St. Helen Catholic Church. Interment will follow at South Park Cemetery.
Christina: My mom was a great woman, she always had our backs no matter what and defended all of us when needed; she taught us many things: How to put up with bullies, how to cook and bake, how to ride a bike and skate… I remember when she tried to teach me and my sister how to do a cartwheel.
She taught us everything we know. Mom would give me advice when needed. She was the best.
Every morning she would be up at four am before my dad would go to work, sewing and drinking her diet Dr. Pepper. Mom would always ask my dad if he wanted lunch and then at lunch time she would ask about dinner. She would have the house clean, dinner cooked with in an hour, I could never do that. My mom was very smart and creative, loved doing crossword puzzles. Numbers where nothing to her, she could remember everyone's social and phone number, do math so fast she'd beat the register at the store. Oh, how she loved to shop with my sister, mom was smart with her money, and when she needed to buy something better stay out of her way and if she'd have extra she would buy us something.
She was funny and always loved wearing neon t-shirt's and skinny jeans with her high top shoes. She loved music every time she cleaned or anything she did she would wanna open the windows and put music on. Movies was moms thing, she loved scary movies no matter how many times she has seen them even.
Mom loved her grandchildren, always had the girls with her at the table or wanting to buy them stuff she loved to play and cuddle with them and cared for them; and all of us. When mom got sick she would always come back like a champ.  She was the best mother, wife, grandmother, aunt, sister in law ever. We love you mom and miss you; now she is literally an angel we  will all truly miss.
Selina: My mother was my best friend, everywhere I went she went. She was everything I had and my daughters were her life. Mom always spoiled them; she always put us before herself in everything especially when cooking. She would always try to plan ahead was funny and always gave the best advice to everyone. Mom will be missed so much, and will never be forgotten, because, how can you forget someone who was always happy?