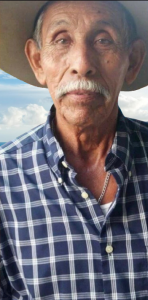 Angel Vasquez Lopez de 85 años de edad residente de Dickinson, Texas falleció el miércoles 5 de octubre del 2022.
Angel nació el 11 de octubre de 1936 en San Guillermo Guanajuato, México; hijo de Jose Vasquez Arroyo y Braulia Lopez Hernandez.
Angel se une a sus padres así como sus hermanas Loreto, Lourdes, Blandina y su hermano Agustin. Angel también se reunirá con sus hijos Martin y Jose Guadalupe Vasquez.
Angel le sobrevive su esposa Odilia Bravo Vasquez, sus hermanas Carmela y Maria Vasquez sus hijas Juana Ruiz y su esposo Felipe, Rosalva Medina y su esposo Homero, Martha Laura Vasquez, Maria Mares y su esposo Efrain, Adela Vasquez y su esposo Cesar Valderrabano, Odilia Saldana y su esposo Jorge, Lucero Vasquez y su esposo Rene Renovato así como sus hijos Jose Vasquez y su esposa Rosa, Alberto Vasquez y su esposa Carolina, Guillermo Vasquez y su esposa Araceli, Jose Gaspar Vasquez y su esposa Stacey; sus treinta y ocho nietos, treinta y un bisnietos y muchos más seres queridos.
Angel era el alma de las fiestas. El amaba cantar y bailar, especialmente con sus hijas. Angel disfrutaba contar su historia acerca de México. Su mayor alegría era pasar tiempo con su familia y celebrar la vida. Angel era un padre, abuelo y bisabuelo amoroso.
In his honor a visitation will be held in the Crowder Funeral Home Chapel, Dickinson, Tx from 6:00 – 7:00pm with a rosary at 7:00pm. A funeral service will be held Monday, October 17, 2022 at St. John the Baptist Catholic Church in Alvin, Texas at 10:ooam. Interment will follow at Mt. Olivet Catholic Cemetery, Dickinson, Texas.